Junior Using Experiences with Migraine to Help Others
Denney working to inform and assist others suffering from chronic disease.
OXFORD, Miss. – When Delora Denney, of Picayune, was 8 years old, a neurologist diagnosed her with chronic migraine disease. She has since been hospitalized six different times due to the debilitating symptoms triggered by the disease.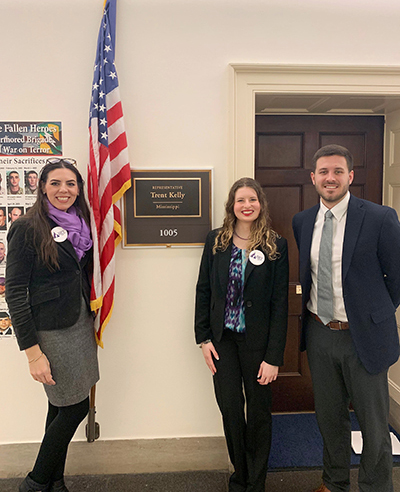 "I can still recall sitting in the doctor's office and being told that I have migraines," Denney said. "I remember the doctor saying, 'I'm sorry we don't have a treatment for you. We are just going to have to try some things until we can find something that helps.'
"That was the start of my journey."
The junior general studies major is studying biology, chemistry and neuroscience at the University of Mississippi with the hope of a career in medicine and advocacy that will allow her to help others who are struggling with migraine disease.
"I've been profoundly impacted by this disease," said Denney, a member of the Sally McDonald Barksdale Honors College. "There is a horrible misconception that a migraine is just a headache, but it comes along with horrible nausea, vomiting, speech issues, memory loss and vision blurriness.
"Over the years, it affected my schoolwork and even my personality. It caused me a lot of suffering, and it was difficult to lead a normal life with all of the complications."
All this began to change in May 2018, when Denney met with a physician in New Orleans who was a specialist in headache and migraine treatment. He told her about a new class of medications created specifically to treat migraines called CGRPs, for calcitonin gene-related peptides.
Research found that this medicine could block the CGRP receptors and keep them from binding, which is one of the factors that can cause migraines. Denney decided to give the medication a try.
"I used to have 30 days out of a month that were migraine days, and now that is down to four to six days a month," Denney said.
Now that she is enjoying an improvement in her overall health, Denney has been stepping up her commitment to help others with the same diagnosis.
She is working as an undergraduate research assistant on the Oxford campus with Todd Smitherman, an associate professor of psychology. Their research involves studying some of the psychological factors involved in migraine and other headache conditions.
"Delora brings a unique perspective to the lab and to our work, particularly given her background and advocacy work with various migraine organizations," Smitherman said. "She has a far more sophisticated understanding of migraine than most undergraduates, and this knowledge and passion will serve her well in her future endeavors.
"I am confident she will go on to make a significant impact in this field."
In February 2019, Denney attended "Headache on the Hill," a national advocacy event in Washington, D.C., that brought together health professionals, migraine and cluster headache advocates, and patients to present information about the impact of headache disorders and the need for research funding.
Denney visited the offices of each of Mississippi's U.S. senators and congressmen to detail her journey and issues with diagnosis and insurance restrictions.
"One of our goals was to ask for migraine research to be included in funding that is now available as a result of the national opioid lawsuits," Denney said.
Denney explained that headache disorders are poorly responsive to opioids, but that many times the drugs are inappropriately prescribed.
"It's common for people with migraines to go to the ER for treatment, and they are prescribed a narcotic, which is the wrong thing to do," she said. "It makes you worse.
"We want headache research to try to help with the opioid crisis because too many people with migraines are being prescribed narcotics they don't need and becoming trapped in addiction to them."
Along with advocacy, Denney is also helping train other migraine sufferers to track and discover factors that could increase or decrease their symptoms through the use of the mobile application Curelator.
Two years ago, Denney began using the app to help track her symptoms, lifestyle and diet to discover more about the triggers for her migraines. She even used the data she had collected on the app as proof of her need for CGRP medication when her health care provider originally denied coverage for the medication's cost.
"After being denied twice, my final appeal included a printout of all of the data that I had been collecting in my electronic migraine diary," she explained.
"Those entries showed 30 out of 30 headache days a month, but after I started the medication, suddenly my entries changed to only a handful of migraine days a month. The proof was in the data, and they overturned the denial."
When Denney's physician shared with the makers of Curelator how she has used the data to help with her insurance issues, they asked her to come on board as a patient adviser.
She works with the digital health company based in Cambridge, Massachusetts, to give feedback and ideas for upgrading the app, as well as creating tutorial videos to show others how to use it to track their migraine symptoms and possible triggers.
"Whenever you are having migraine attacks all the time and you are suffering, it is so helpful to have something that shows you ways you can help yourself," she said. "This app allows you to pinpoint things, that are unique to you, that you should or shouldn't be doing to mitigate a migraine attack.
"It gives you back some control."
In the midst of her research, advocacy and advising others, Denney keeps up with coursework, tests and assignments in her upper-level classes.
She was honored for her work recently when she was inducted into the university's chapter of Phi Kappa Phi academic honor society.
Denney will be pursuing her interests internationally next spring and summer as she spends the semester studying abroad at the University of Cologne in Germany.
"I'm excited to learn in the international program offered there and to have the opportunity to go live in Germany, solidify my language skills, and learn more about the culture," she said. "I've always wanted the chance to do that."
She will return to Ole Miss next fall to begin her senior year, then she hopes to attend medical school.
"I've known for a while that I need to go on to become a doctor," Denney said. "I have to go on to make a difference because there are others out there like me, and I want to be able to help them.
"When people tell me that they too struggle with migraines and ask me for help, it makes the pain and struggles that I have been through all worth it because I understand what they are going through."