UM Students Starting Careers with Help from Internship Experience Program
Program supports students interning in Atlanta, D.C., and New York
OXFORD, Miss.— "Life changing." "Incredible." "Eye-opening." "Extraordinary." A group of University of Mississippi students recently used these words to describe the unique experiences they had this summer that not only enhanced their career skills but also opened doors for their future.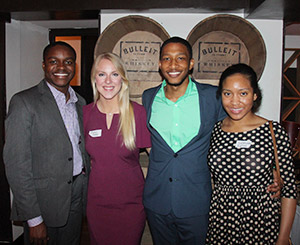 Last month, students met with UM administration, faculty and staff to discuss their experiences as participants in the Internship Experience Program, a special program that prepares and organizes cohorts of Ole Miss students to participate in career internships in Atlanta, New York and Washington, D.C.
Sara "Cookie" White, a senior integrated marketing communications major from Houston, Texas, was among the students who presented at the event.
"This program taught me how to create my own path," White said. "I feel like I gained a lot of confidence in myself. It really pushed me to be my best and learn on my feet."
The UM Internship Experience Program offers Ole Miss juniors and seniors an opportunity to gain professional work experience in these major cities while earning academic credit in their fields of study. Students work, with the assistance of university staff, to secure an internship that will give them important professional experience for future job opportunities.
"We envision these programs as a two-way pipeline between these amazing cities and the University of Mississippi," said Laura Antonow, director of college programs in the Division of Outreach and Continuing Education. "This is a way to aid our students in their transition into successful professional careers after college."
In summer 2018, 12 students were selected to participate in the program, with two going to New York, four interning in Washington and six working in Atlanta.
"We start by selecting students that we believe are going to be competitive in these fast-paced cities, those who have a good combination of work experience, academic success and then extracurricular and leadership experience," Antonow said.
White said she wanted to go to New York to try something new and feel the specialness of the city. As an intern with Allied Integrating Marketing, she got to help major motion picture studios promote upcoming films through screenings and special events.
"I had so many interesting projects and tasks," White said. "I knew my IMC classes were preparing me for the future.
"When I started the summer, I felt like I had all of this knowledge, but I wasn't quite sure what to do with it yet. Participating in this internship was a great way for me to apply everything that I have been learning during my time at Ole Miss."
Shelby McElwain, of Corinth, is a senior art history major who interned this summer with nAscent Art in New York. She was able to help the company research art buys and designs for some of the country's newest hotels.
"I felt like I was making a difference in the projects that my employer was pursuing this summer," McElwain said. "They wanted my assistance and opinion. I learned so much."
Jarrius Adams, a senior public policy and political science major from Hattiesburg, interned with the Congressional Black Caucus in U.S. Rep. Bennie Thompson's Washington office.
"My time in D.C. changed my perspective going forward," Adams said. "I learned a lot. I know that I love politics, but I think I can make a greater impact in my community by participating more at the local level. I saw how local politicians make the laws that really affect everyday lives."
Hailey McKee, of Dyersburg, Tennessee, is a senior public policy and journalism major who had positions in two different offices this summer in Washington, serving as an intern at the Newseum and with U.S. Rep. David Kustoff of Tennessee.
During the presentation, she shared more about some of the more interesting events, hearings, and tasks she participated in over the summer.
"I looked up, and I was taking notes during a Senate hearing about putting American boots on the ground on Mars by 2030," McKee explained. "There were astronauts in the room who have left the Earth. It was surreal."
She said she was awestruck passing the Supreme Court and Library of Congress each day on her way to work.
"I wanted to appreciate all the history and significance of the places I was around daily."
Ryan Granger, a senior IMC major from Pearl, said he chose to intern this summer in Atlanta because of the big city feel that wasn't too far out of his comfort zone.
As an intern with the Atlanta International Fashion Week organization, he had the chance to help roll out a new collaboration between AIFW and Microsoft Corp. that is providing educational opportunities for Atlanta youth.
"I was working on press releases, preparing media kits and event planning," he said. "It was cool to get all this real-world exposure to activities that I'll be doing in my field.
"I learned so much about being able to adapt to the world around me and correctly adjust to whatever I needed to do."
Granger is hoping that his summer internship will turn into a full-time job after graduation in May.
"Working in this industry would be a great pathway that could open a lot of career opportunities for me," he said.
Granger said one of his favorite parts of the program was getting to know Ole Miss alumni in the area.
"It was great to hear their perspectives of living in Atlanta versus living in Oxford and appreciating the differences," he said. "They helped us students see that living in this major city is definitely manageable when you learn the ropes."
Antonow said the UM Internship Experience program is a special way for alumni to stay connected or to get more connected to the university.
"We've been steadily building our relationships with alumni and employers in these cities, and now we are receiving phone calls from past employers asking us when the new batch of Ole Miss interns will be selected," she said.
The priority application deadline is Nov. 9 for juniors and seniors who are interested in being a part of the summer 2019 cohort of Internship Experience participants.
For more information or to start an online application, visit this webpage.