Alumnus donates 1908 Mississippi Railway Map to UM Oxford Train Depot
Batesville couple scores unique find in Hawaii
OXFORD, Miss. – University of Mississippi alumnus Briggs Smith (BSPH 62, JD 66) of Batesville, learned about trains from a young age. His grandfather was an engineer for the GM&O (Gulf, Mobile, and Ohio) railroad in Meridian in the 1940's and 50's.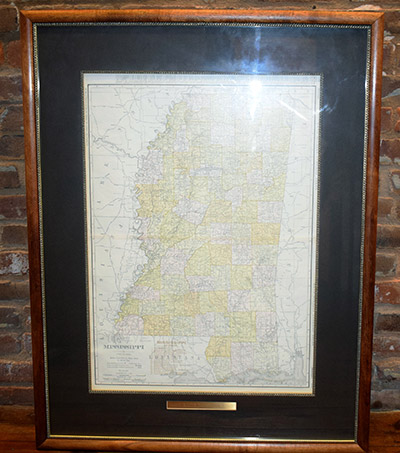 "He would let my brother, sister, and I ride on the caboose and go up and down the railroad tracks looking around," Smith said.
"The railroad has always been a part of my family. When I was older and became an attorney I helped the railroad whenever I could."
As an attorney in Batesville for the past 50 years, Briggs and his wife Dot are loyal Ole Miss fans who attend sporting events and Ford Center theatre productions faithfully.
In 1995, the couple was visiting Maui, Hawaii for a seminar when a piece of Mississippi history passed right before their eyes.
"We were in a store on the island and saw a historic map of the Mississippi railroad system hanging on the wall," Dot said. "We knew we had to have it."
"Can you believe that they (the shop owners) would think that anyone would come to their store in Hawaii and buy this map of Mississippi railways?" she said.
The framed print was shipped back to Mississippi where it hung at Briggs' law office in Batesville for over 20 years. After retiring last year, he decided that the map needed a new home.
Dot said she attended an event at the renovated Oxford University Train Depot a few years ago. She remembered admiring all of the interesting memorabilia from when the building was once a bustling train stop for students coming to campus and passengers traveling to and from Oxford.
Originally finished in 1860, and refurbished in 1866, the Oxford depot served trains running from Canton to Grand Junction, Tenn. It also connected the city and the university to major railroad lines around the country.
"I knew the old train depot on the Ole Miss campus would be the perfect place for it," Dot said. "It's a great conversation piece."