UM History Professor Awarded Paragon Online Teaching Award
Shennette Garrett-Scott uses interactive tools to bring history to life
OXFORD, Miss. – Each year, Ole Miss Online, housed in the University of Mississippi's Office of Academic Outreach, recognizes the dedication and innovation that UM faculty members put into online courses through the annual Paragon Award for Excellence in Distance Teaching.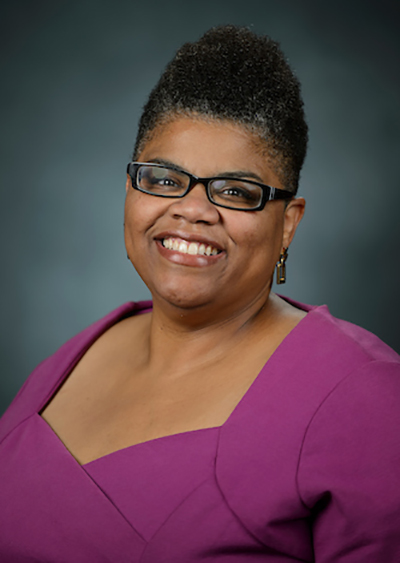 In its 10th year, the award honors the efforts of online faculty members who exhibit outstanding practice in course design, student engagement and a strong commitment to providing quality education.
"Online course offerings and enrollment at the University of Mississippi have expanded greatly in the past 10 years," said April Thompson, UM director of academic outreach.
"The one thing that hasn't changed is the desire to keep improving the online classroom for our students."
For her innovative uses of technology and interactive ways to keep online students engaged, Shennette Garrett-Scott, associate professor of history and African American studies, is this year's recipient of the award. Last summer, Scott taught HST 415: African American History Since 1865 online for the first time.
Online classes tend to lend themselves to a more student-centered approach to learning, Garrett-Scott said.
"Student-centered learning encourages students to conceptualize problems, find solutions and reflect on the process," she said. "It develops student autonomy and independence, which are the cornerstones of effective critical thinking."
Garrett-Scott worked to incorporate a variety of technology and instructional methods into her course to engage different types of learners.
Students learned more about the civil rights era by using the appumentary "The Spies of Mississippi," developed by the Public Broadcasting Service. An appumentary is a digital application that builds on storytelling presented in books and films to deliver interactive experiences.
"Students could engage, explore and respond to a diverse array of multimedia, such as video, news articles, social media, photos, interactive maps and more through the app," she said.
The appumentary is described as "converting the passive experience of reading a book, or watching a movie into an activity."
Garrett-Scott 's class stood out among the award committee due to the wide array of learning tools used to enhance the student experience, said Mary Lea Moore, assistant director of academic outreach.
"There is no reason history has to be dull," Moore said. "By bringing in a variety of multimedia aspects into this course Garrett-Scott enhanced the connection between the student and the material discussed."
Students in the course participated in a project to investigate further voter suppression tactics that took place in the U.S. during the late 19th and early 20th centuries.
"Students examined the voting requirements in their own home state and looked for issues that might exclude people from voting, as well as the past restrictions placed on citizens in their state," Garrett-Scott explained.
Instead of writing the standard discussion posts online, the class was assigned the task of creating a Pinterest board with this information, as well as sharing information about voting myths and locating the evidence to debunk this misinformation.
"I wanted this to be a more engaging experience for students than just writing a discussion post," she said. "The goal was to get them to think, research and use their creativity."
Garrett-Scott says that part of her teaching philosophy includes meeting students where they are to advance them toward diversity, inclusion and social justice.
"As students log in for the first time or look over the syllabus of this class, I imagine the question that flits through most of their minds is 'What does the past have to do with today?'" she said. "In many ways, students of today are not very different from people in the past. They are more eager to imagine where they are going rather than reflecting on where they have been.
"In our modern society and culture, events that happened last week, let alone a hundred years ago, at best, seem old-fashioned or, at worst, irrelevant and boring. Yet, it is precisely during these moments of change in our present that the past speaks most clearly to us.
The importance of these moments becomes clearer when students explore intersections of identity and meaning in history."
Garrett-Scott will receive her award during the second annual "Toolbox Talks" event held by the Ole Miss Online department at 2:30 p.m.Thursday (March 19) in the UM Jackson Avenue Center.
Garrett-Scott, along with fellow UM online faculty members, will present ideas, tips and techniques to utilize when developing an online course.
The goal is to inspire and aid faculty members as they share their subject matter in new, exciting ways, Thompson said.
"Last year's event kicked off some great conversations between UM faculty members," she said. "We hope this event will continue to fill the teaching toolboxes of our online instructors."
By Pam Starling