Outreach Events and Services
About The Jackson Avenue Center (JAC)
Office of Outreach Operations, 1111 West Jackson Avenue, Oxford, MS 38655
The Jackson Avenue Center (JAC) is located on Jackson Avenue, one of Oxford's main arteries. The JAC allows conference hosts and their guests easy access off Highway 6 and ample parking. Although technically located off campus, the JAC is only minutes from the heart of the Ole Miss campus and offers all of the resources of The University of Mississippi.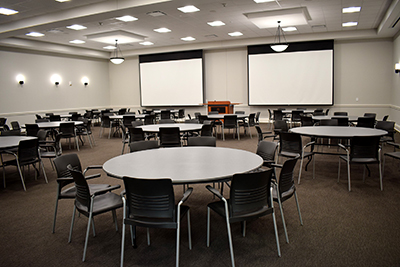 The JAC provides the perfect setting for large meetings, seminars, workshops, mini-conferences and other events. The Event Center is equipped with four projectors, retractable screens, and 32 concealed speakers. Stationery and wireless microphones are provided.
Seating
500 auditorium style
250 classroom style
300 banquet style
Priority Usage
Academic departments have first priority in using the Event Center room for academic reasons at no charge to the department.
University public events, as directed by the Chancellor, have second priority in the use of the Event Center at no charge.
All Other Faculty/Staff Usage
All others are allowed to use the facility on a first-come, first-serve basis for reservations and will be charged per the schedule below. This includes any departments, organizations, or University staff events that work through University Public Events. If priority usage is needed during an already reserved event, the client will be contacted immediately by the Jackson Avenue Center Office of event cancellation and fee refunds, including deposit.
The Provost reserves the right to require that events held in this facility be ticketed by the UM Box Office.
Directions
From the Highway 6 bypass take the Jackson Avenue exit.
Option I
Turn left at the traffic light at Jackson Avenue and Fraternity Row. The JAC is in at the far right end of the building.
Option II
Take an immediate left past the Mississippi Federal Credit Union. The JAC will be right in front of you.
From the City of Oxford side of Jackson Avenue:
Take an immediate right just before the Mississippi Federal Credit Union. The JAC will be right in front of you.