Outreach Events and Services
About The Oxford University Depot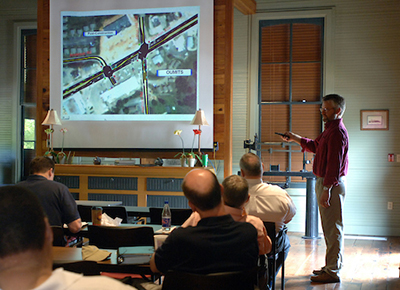 History
The University of Mississippi purchased the depot in 1983. In 1992, the University successfully lobbied to have the Depot declared a Mississippi Landmark, the highest honor that the State can bestow upon a property.
After many attempts by citizens, tourism experts, and developers to breathe new life into the Depot, the University secured a grant of $800,000 from the Mississippi Department of Transportation in the summer of 2001. With an additional $200,000 in matching funds, the University and the Mississippi Department of Archives and History worked together to restore the Depot and adapt it to modern use.
The Depot returned to community service in the fall of 2003 as a multipurpose facility with space for groups of up to sixty people for meetings, lectures, and other events. Today, the Oxford University Depot is once again a place where students, locals, and visitors can gather. It stands ready to watch over Oxford and the University into the next century and beyond.
This site honors the restoration and opening of the Oxford University Depot as a community center and highlights the history of the depot and features archival materials relating to the depot and the Mississippi Central Railroad.
Main Room Seating
Theatre setting: 48
Classroom setting: 24
U-shaped setting: 20
Rounds: 48
Standing Room Reception: 80
Catering
For catering options, please contact the University Conference Complex staff.
Directions
From Highway 6 bypass, take the Old Taylor Road exit.
Follow the signs to campus going north on Old Taylor Road until it intersects with University Avenue (less than ½ mile).
Take a right at University Avenue.
Take the first left past The Gertrude Ford Center for Performing Arts.
Veer left towards the end of the parking lot.
The Train Depot is the first building on your left.