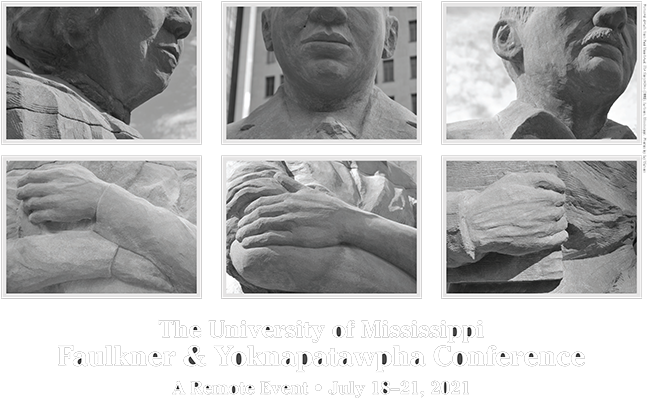 Faulkner, Welty, Wright:
A Mississippi Confluence
The University of Mississippi 47th Annual Faulkner & Yoknapatawpha Conference
July 18-21, 2021
The University of Mississippi announces the Forty-Seventh Annual Faulkner and Yoknapatawpha Conference. The conference is sponsored by the Department of English and the Center for the Study of Southern Culture and coordinated by the Office of Outreach and Continuing Education.
2021 Conference Program
The 47th Annual Faulkner & Yoknapatawpha Conference will interrupt its long history of focusing on a single author to take up a trio of Mississippi giants who have left an indelible mark on American literature and modern intellectual life: William Faulkner, Eudora Welty, and Richard Wright. Together they have shaped, and moreover embodied, a "Mississippi modernism" that has yet to be fully reckoned with by literary scholars. Further, they have collectively bequeathed to us a bold imaginative encounter with history, society, power, and indeed the range of life in the state, region, nation, and beyond, over a timespan that reaches from settler colonialism and the Middle Passage to decolonization and the civil rights movement. This legacy, still vital today, invites and will richly reward comparative study. In addition to seven invited speakers, the conference program will include panel presentations, two film screenings with talkbacks, and special sessions on "Teaching Faulkner, Welty, and Wright" and "Reparative Teaching: Faulkner, Welty, and Wright in the Anti-Racist Classroom."
The conference, which will be held remotely, as a series of online meetings using Zoom technology, will begin on Sunday, July 18, with two keynote addresses and the inaugural Ann J. Abadie Lecture in Southern Studies. Over the next three days, a busy schedule of lectures and panels will also make room for the annual Library Lecture, the film screenings, and presentations by Faulkner collector Seth Berner and by the Digital Yoknapatawpha group, whose extensive database and visualization project has been under development at the University of Virginia since 2011. The program for July 19, 20, and 21 will end each day with a virtual "cocktail hour" for registrants to gather, discuss the day's events, and unwind. Breakout rooms will be available for smaller groups during the virtual cocktail hours. Throughout the conference the program schedule will observe Central Daylight Time (CDT).
2021 Invited Speakers
Susan V. Donaldson is National Endowment for the Humanities Professor of English and American Studies emerita at the College of William and Mary, where she has taught since 1985. She is author of "Competing Voices: The American Novel, 1865–1914," a Choice "Outstanding Academic Book," and over sixty journal essays and book chapters. Donaldson is also coeditor with Anne Goodwyn Jones of "Haunted Bodies: Gender and Southern Texts" and she has edited and coedited special issues of "Mississippi Quarterly" and the "Faulkner Journal." She is currently working on two books, one on the politics of storytelling, race, and visual culture in the U.S. South and the other on Mississippi writers and the demise of Jim Crow.
Suzanne Marrs is professor emerita of English at Millsaps College. Marrs is the author of "Eudora Welty, A Biography," "One Writer's Imagination: The Fiction of Eudora Welty," and "The Welty Collection." She is also the editor or coeditor of three works: "What There Is to Say We Have Said: The Correspondence of Eudora Welty and William Maxwell," "Eudora Welty and Politics: Did the Writer Crusade?" (with Harriet Pollack), and "Meanwhile There Are Letters: The Correspondence of Eudora Welty and Ross Macdonald" (with Tom Nolan). She received the 1998 Phoenix Award for Outstanding Welty Scholarship from the Eudora Welty Society and was Mississippi's Humanities Scholar of the Year in 2009.
Carl F. Rollyson, professor emeritus of journalism at Baruch College, CUNY, is the author of "The Life of William Faulkner" and "Uses of the Past in the Novels of William Faulkner." His other biographical subjects are Marilyn Monroe, Lillian Hellman, Martha Gellhorn, Norman Mailer, Rebecca West, Susan Sontag, Jill Craigie, Michael Foot, Dana Andrews, Walter Brennan, Amy Lowell, and Sylvia Plath. His studies of biography include "A Higher Form of Cannibalism? Adventures in the Art and Politics of Biography and Confessions of a Serial Biographer." His podcast, "A Life in Biography," posts weekly on Saturdays.
Natasha Trethewey served two terms as the nineteenth Poet Laureate of the United States (2012–14). She is the author of five collections of poetry: "Monument," which was longlisted for the 2018 National Book Award; "Thrall;" "Native Guard," for which she was awarded the Pulitzer Prize; "Bellocq's Ophelia;" and "Domestic Work," which was selected by Rita Dove as the winner of the inaugural Cave Canem Poetry Prize for the best first book by an African American poet. She is also the author of the memoir Memorial Drive, and a book of nonfiction, "Beyond Katrina: A Meditation on the Mississippi Gulf Coast." At Northwestern University she is a Board of Trustees Professor of English in the Weinberg College of Arts and Sciences.
Jerry W. Ward Jr., a Richard Wright scholar, taught for thirty-two years (1970–2002) at Tougaloo College and for a decade (2002–12) at Dillard University. He is the author of "The Katrina Papers: A Journal of Trauma and Recovery," "The China Lectures," "Fractal Song: Poems, and Blogs and Other Writing." He edited "Trouble the Water: 250 Years of African-American Poetry" and coedited "Redefining American Literary History," "Black Southern Voices," "The Richard Wright Encyclopedia," and "The Cambridge History of African American Literature." He lives and writes in New Orleans, Louisiana.
Julia Wright is the elder daughter of Richard Wright, the executrix of his estate, and the editor of the "Richard Wright News Bulletin." She studied sociology under Georges Balandier at the Sorbonne University before becoming a journalist, essayist, and poet with pieces in Le Monde, Jeune Afrique, Présence Africaine, France-Culture, the History of Black Writing website, Konch magazine, and many other publications. She wrote the introductions to Mumia Abu-Jamal's "Death Blossoms" and Richard Wright's "A Father's Law" and is at present completing a memoir on her father.
Malcolm Wright was born in the U.K. and grew up in a transcultural environment heavily influenced by his mother, Julia, a journalist, and his grandfather, the author Richard Wright. Between 1998 and 2018, he engaged in a highly successful career in visual effects, working with twenty-two productions, including "Lord of the Rings," "King Kong," "I Robot," "Charlotte's Web," "Avatar," "The Hunger Games," and "Game of Thrones." Ten years into his career, Wright founded Quiet Heart Film to incubate projects exploring environmental and social concerns. In 2021 Quiet Heart Film is set to release "Whale Like Me," an adventurous feature documentary drilling to the core of the fault lines between conservationists and whale-eating cultures, shot in eleven countries.
Additional speakers and panelists have been selected from the call for papers competition.
2021 Registration Information
"Faulkner, Welty, Wright: A Mississippi Confluence" will be held remotely via Zoom. All registrants should make sure to upgrade their Zoom software or app to the most updated version available immediately before the confer­ence. The registration fee for the conference is $50 for students and $100 for other participants. The fee includes virtual admission to all program events, along with the virtual cocktail hours at the end of the July 19, July 20, and July 21 daily programs. Single-day registration is also available at $50 for the day specified.
All conference events will observe Central Daylight Time (CDT).
Please note that conference registration is now online. We hope that you will find the new online registration process to be easy and convenient. We understand that this is a big change from the past registration procedures. Should you have any questions or encounter any issues during the registration process just give us a call and we will be glad to assist.
A few helpful tips:
Please have your credit card available when you begin the registration process. You will pay at the end of the registration process. We only accept Visa and MasterCard credit card payments.
Only one participant can register at a time.
Conference t-shirts can be ordered separately or as an add-on to your registration.
You must have an active email address in order to register.
To register, please follow these instructions:
Click "View Details" to the right of "Faulkner and Yoknapatawpha Conference"
Select attendee type (Standard, 1-Day, or Student) and click "Add to Cart".
NOTE: If you are a speaker or other reduced cost participant and have been given a "Promo Code" you will have an opportunity to enter your code later in the registration process prior to payment.
Enter your information.
Please indicate if you are currently a high school teacher—for records purposes only.
Confirm all information is filled out accurately and click "Continue".
Review your registration order. If you would like to order a t-shirt at this time, click "Continue Shopping". You can "Continue Shopping" to add items until you have all items in your cart that you would like to order. When you are satisfied with your order, click "Checkout".
Enter your e-mail address and click "Continue".
NOTE: If you do not have a valid e-mail or no longer have access to one, you will need to create one for registration purposes.
Select your payment method (Credit Card). Please input the required information and click "Continue".
Fill in all of the required information and review for accuracy. Your phone number should be entered in (xxx) xxx-xxxx format. If you do not have a U.S. or Canadian phone number, please enter (000) 000-0000. This information is kept for record purposes only. Confirm all information is correct and click "Review Order".
If you have a promo code, enter it here (promo code is case sensitive and must be entered exactly as it was provided to you). If you were not provided a promo code, proceed to Step 10.
Review all payment and billing information. This is the final review before confirming your order. Please make edits if necessary before confirming your order. To edit your cart, you must click "Cart" in the small navigation bar near the top of the screen under the heading "Review Order".
If you are satisfied with your order details as they appear, click "Submit Order". This should take you to the "Order Receipt" page to confirm your registration. Once you receive this Order #, you are successfully registered for the conference. Please print a copy for your records by clicking on the gray "Print" button. Your registration information has also been sent to the e-mail address you provided. To register another participant, click "Continue Shopping".
Questions, comments, or concerns? Contact Mary Leach at (662) 915-7847 or pdlljac@olemiss.edu.
Refunds: Refunds can be made, less a $10 service charge per registration, before July 8, 2021. No refunds will be made after that date. To initiate a cancellation request, please contact Mary Leach at pdlljac@olemiss.edu.
Special Sessions for Teachers
"Teaching Faulkner, Welty, and Wright"
"Reparative Teaching: Faulkner, Welty, and Wright in The Anti-Racist Classroom"
All registrants, whether they are teachers or not, are welcome at these sessions.
Conference Schedule/Details
All conference events will observe Central Daylight Time (CDT).
SUNDAY, JULY 18
2:30 p.m. - KEYNOTE LECTURE:  Susan V. Donaldson
4:00 p.m. - KEYNOTE LECTURE:  Jerry W. Ward, Jr.
7:30 p.m. - ANN J. ABADIE LECTURE:  Natasha Trethewey
MONDAY, JULY 19
8:00 a.m. - RACIAL AND ENVIRONMENTAL CROSSINGS IN FAULKNER AND WRIGHT: Laura Wilson, William C. Palmer, Candace Waid, and Pei-Wen Clio Kao
9:30 a.m. - REMAPPING SOUTHERN GEOGRAPHIES: Ralph Eubanks, Gary Richards, Andrea Dimino, Hayley Wilson
11:00 a.m. - MISSISSIPPI WRITERS THEN AND NOW: A CROWDED LANDSCAPE OF MUTUAL HAUNTINGS: Julia Eichelberger, Rebecca Mark, Harriet Pollack, Sarah Ford
12:30 p.m. - COLLECTING FAULKNER: Seth Berner (with breakout rooms)
2:00 p.m. - KEYNOTE LECTURE: Suzanne Marrs
3:30 p.m. - WRIGHT, FAULKNER, AESTHETICS, AND PROPAGANDA: Sharon L. Jones, John Wharton Lowe, Anthony Dyer Hoefer
5:00 p.m. - VIRTUAL COCKTAIL HOUR:  Zoom common room and breakout rooms
8:00 p.m. - THE PAST IS NEVER DEAD screening with Michael Modak-Truran
TUESDAY, JULY 20
8:00 a.m. - ARCHIVAL DISCOVERIES AND DEVELOPMENTS: Benjamin Alexander, April Blevins and Forrest Galey, Ryoichi Yamane
9:30 a.m. - RACIAL VIOLENCE AND SOCIAL DEATH IN FAULKNER AND WRIGHT: Anne Bull, Ahmed Honeini, Bernard Joy
11:00 a.m. - KEYNOTE LECTURE:  Julia Wright
12:30 p.m. - NAVIGATING FAULKNER'S WORLD THROUGH DIGITAL YOKNAPATAWPHA: NEW FEATURES AND UPDATES: Railton, John Padgett, Erin Penner, Johannes Burgers, Theresa M. Towner
2:00 p.m. - REPARATIVE TEACHING: FAULKNER, WELTY, AND WRIGHT IN THE ANTIRACIST CLASSROOM: Ebony Lumumba and Rebecca Nisetich
3:30 p.m. - CRIME FICTION, PRISON STUDIES, AND THE P.O.: Jacob Agner, Adrienne Akins Warfield, Donnie McMahand and Kevin Murphy
5:00 p.m. - VIRTUAL COCKTAIL HOUR:  Zoom common room and breakout rooms
WEDNESDAY, JULY 21
8:00 a.m. - TEACHING FAULKNER, WELTY, AND WRIGHT: James Carothers, Jennie Joiner, Brian McDonald, Terrell Tebbetts, and Theresa Towner
9:30 a.m. - REGIONAL MARKINGS: VISION, GENDER, AND STYLE: Carol Ann Johnston, Judy Butterfield, Michał Choiński
11:00 a.m. - ALMOS' A MAN screening: Malcolm Wright
12:30 p.m. - LIBRARY LECTURE: Carl Rollyson
2:00 p.m. - GOING DIGITAL, GOING MODERN, AND GOING TO JACKSON: CHANGING MEDIA, MODE, AND MIND IN FAULKNER, WELTY, AND WRIGHT: Michael Pickard and Rae Switzer, Michael Gleason, Anita DeRouen and Anne MacMaster
3:30 p.m. - RADICALITY IN FAULKNER, WELTY, AND WRIGHT: Pearl McHaney, Phillip Gordon, David McWhirter, Christopher Curran
5:00 p.m. - VIRTUAL COCKTAIL HOUR:  Zoom common room and breakout rooms
Faulkner Posters
Flat copies of Faulkner & Yoknapatawpha Conference posters with illustrations by Glennray Tutor (1989, 1990, 1993, 2017), John McCrady (2003, 2005), and William Faulkner (2007) and with photographs by Martin Dain (1996, 2009), Jack Cofield (1997, 2000), Bern Keating (1998, 2014), William Odiorne (1990), Budd Studios (2002), Phyllis Cerf (2008), Alfred Eris (2010), Henri Cartier-Bresson (2011), and from the Cofield Collection (2001, 2019), the Memphis Commercial Appeal (2006), and the Library of Congress (2018) are available on the poster gallery page.
Special Thanks
Faulkner & Yoknapatawpha Conference 2021 publicity materials were produced through the generous support of the City of Oxford and the Oxford Partnerships Program of Visit Oxford.
Contact Information
For more information concerning the conference, contact:
Division of Outreach and Continuing Education
Office of Professional Development and Lifelong Learning
P.O. Box 1848 • The University of Mississippi
University, MS 38677
Telephone 662-915-7283
Fax 662-915-5138