UM English Students Explore Career Options with Alumni
Networking event highlights advice for a variety of paths after graduation
OXFORD, Miss. – Students at the University of Mississippi had an opportunity to network with alumni who have translated their Ole Miss English degrees into a wide variety of career paths during a recent event on the Oxford campus.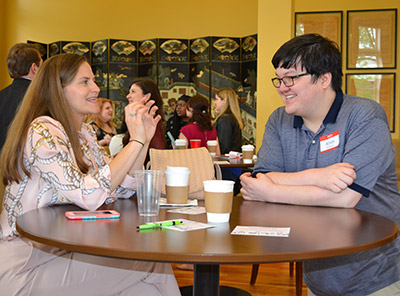 The "Next Chapters" career networking program was a collaborative effort of the university's College of Liberal Arts and its Department of English, and the UM Internship Experience Program.
"The common assumption is that you can only become a teacher or a writer with an English degree," said Rachael Harbourne, a junior from Dallas. "It was great meeting professionals with an English background who all do something different and are using what they learned here."
Jason Solinger, associate professor of English, headed up the two-day event. He said that as chair of the department's publicity and outreach committee, one of his goals is to develop more career programming options for students.
"We wanted to work on better connecting English alumni with one another and with our students," Solinger said. "The event gave them the opportunity to benefit from the wisdom and experience of our alumni who are now working in a wide variety of professions, and our alumni really enjoy coming back to campus to speak to the future graduates."
Solinger teamed with the Office of College Programs that houses the UM Internship Experience Program.
"Over the years, a number of our English majors and minors have worked with the Internship Experience office to secure pivotal summer internships that have helped them pursue rewarding careers after graduation," he said.
The two-day networking event was designed for English majors and minors, but students from throughout the College of Liberal Arts were welcomed. The goal was to provide an opportunity to meet and learn from alumni who can explain the value of an English degree in today's job market as well as provide honest advice about the job search process.
The event opened on the afternoon of April 11, with Linda Spargo, an English department alumna and special projects coordinator at UM, moderating a panel discussion with six English department alumni who have built upon their Ole Miss experiences and excelled in a variety of careers.
Nicole Tisdale, a 2010 political science graduate with a minor in English, earned a Juris Doctor from the UM School of Law before serving the past 10 years in the U.S. House of Representatives as a subcommittee staff director for homeland security.
"As a staffer on Capitol Hill, 80 (percent) to 90 percent of my job is writing," Tisdale said. "I know people may not think that politics involves a lot of writing, but for me it does.
"I'm not in front of the camera, and I don't talk about the bills to the press. The members of Congress that I work for do that, but someone has to write the speeches, bills and letters."
Tisdale shared how her English courses helped her learn to immerse herself in different topics and articulate what she learned.
"I didn't graduate from Ole Miss being an expert in ISIS and Chinese espionage, but I did learn how to immerse myself in the subject matter and provide analysis for the variety of material I studied each semester," she said. "This trained me well for what I do now in D.C."
Kimberly Dandridge is a 2013 UM graduate who majored in journalism with a minor in English. Upon graduation, she interned at the White House Office of Presidential Personnel and then went to law school at Texas Southern University. She is an attorney for Gap Inc. in San Francisco.
"How I word a contract or place a comma makes a big difference, and my English background gives me an edge," Dandridge said.
During the panel discussion, students got advice from each of the professionals on how to pursue their own career paths after graduation.
Kaylee Webb, a 2014 Ole Miss graduate who is an associate publicist with HarperCollins Publisher in New York, advised students to accept "no" with grace during the job search process.
"Rejection means you did something," Webb said. "You took the first step."
Dandridge encouraged students to market themselves through their LinkedIn profiles.
"I got my job with Gap because a recruiter found me on LinkedIn. You never know which companies and recruiters may be looking for the skills you have."
Lindsey Neyman, a production talent manager with FuseFX in Los Angeles, also said that LinkedIn plays a big role when she is hiring new employees.
"Check out the backgrounds and career paths of the people who have a career you would be interested in," she advised. "Where did they get started? It may show you the first rung on the ladder to get where you want to be."
Kent Jackson, a senior product manager with Core Logic in Oxford, told students to think about learning as a new language.
"Whatever field you pursue, you'll just need to learn the vocabulary," he said. "If you do research on the company and the field before you go into an interview, it will help you so much."
A networking reception with the speakers followed the discussion.
The second day began with one-on-one mentoring sessions with UM English alumni as part of a speed-networking breakfast that included 17 English department alumni from a wide range of career fields. They included clergy, publishing house associates, art directors, business writers, crime prevention directors, health care administrators, philanthropy coordinators and attorneys.
Emily Capponi, a junior English major from Seattle, said that having opportunities to speak one-on-one with alumni gave her confidence that she is on the right career path.
"They kept reassuring me that I would be prepared for a great career,"Capponi said. "Several of the alumni said that while they were completing their degree they didn't know exactly which field they would ultimately go into, and obviously it worked out for each of them."
After attending the events, Rachel McKellor, a senior English major from Purvis, said she has a different outlook on rejection in the job market.
"I got a lot of advice about being open to rejection, which closes doors but opens them at the same time," she said. "The professionals told me how certain job opportunities wouldn't work out and they would get disheartened, but because of that, another door opened and it led them to something they wouldn't have expected.
"I might have been a person who, if a door closed, I would have walked away, but hearing from successful people about how this happened to them, now I know it's common for most people. It's all going to come down to my attitude."