"Black Panther" Writer to Headline Annual Mississippi Scholastic Press Convention
UM to host over 500 budding journalists for state convention this month
OXFORD, Miss.— The author of Marvel Comics' graphic novel reboot "Black Panther" will encourage high school students from around the state as the keynote speaker for the Mississippi Scholastic Press Association's (MSPA) 2018 spring convention and awards ceremony.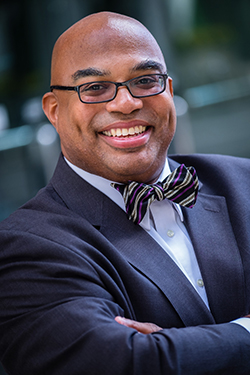 Jesse Holland, Jr., the author and University of Mississippi School of Journalism alumnus, returns to his alma mater to headline the event being held on the Oxford campus on Tuesday, March 27.
"Jesse is a guy who not too long ago was sitting right where these students are, and now he's a part of something big," MSPA Director and UM Journalism faculty member R.J. Morgan said. "He's someone with a broad range of skills who has honed his craft and found a sweet spot."
A native of Holly Springs, Holland is an award-winning journalist himself who earned his bachelor's degree from UM in 1992 before going on to write for the Associated Press. Last year his non-fiction book "The Invisibles: The Untold Story of African American Slavery in the White House" won the silver medal in U.S. History at the Independent Publisher Book Awards.
"It's exciting to give high school journalists access to someone who's so in demand in his career right now," Morgan said.
Now in its 71st year, the annual MSPA convention is the largest gathering of high school journalists in the state. The association works to equip area high school students to research, write, and share true stories through journalism. 
Professional journalists, photographers, videographers, and educators from across the southeast will be training students in a variety of skill and roundtable sessions slated for the day's event. Students also find out who the coveted "Best of Mississippi" award winners will be for 2018.
"Attending MSPA as a sophomore confirmed my decision to pursue a career in graphic design," Tupelo High School Senior Sawyer Tucker said. "The classes offer a variety of learning opportunities for me and my classmates to better ourselves and our publication. The competition aspect provides an environment that makes us strive to do our best work all year long."
Director of Communications at St. Joseph Catholic School in Madison, Terry Cassreino, recently said that he felt participation in student media gave his students an edge in both college and career preparation.
"Regardless of what mediums students ultimately study in college, they will leave a strong high school media program with the skills they need to be successful college students and productive adults."
Research conducted by Jack Dvork, a professor at Indiana University's School of Journalism compared academic achievements and scores on the ACT college entrance exams of students who were on the staffs of high school newspapers and yearbooks with those who did not have those journalism experiences.
His research found that almost 20 percent of students involved in student media achieved higher grade point averages in high school, scored better on the ACT, and demonstrated better writing and grammar skills in college than students who did not have those journalism experiences.
"The skills learned through student journalism are essential tools that are transferrable to any career," Morgan said. "Learning how to organize your thoughts, meet deadlines, and communicate effectively in verbal and written communication is key, no matter what field a student may pursue." 
For more information on the 2018 Mississippi Scholastic Press Association spring convention at UM please visit outreach.olemiss.edu/mspa2018.