UM Offers On-Campus and Online Summer Camp Options for K-12th Graders
Students can enhance their love of learning and stay sharp with UM summer programs.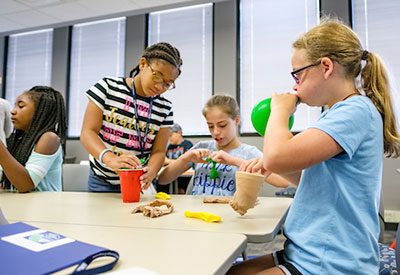 OXFORD, Miss. –  The University of Mississippi's Office of Pre-College Programs recently announced the 2021 lineup of summer program options for students in kindergarten through 12th grades. Through a wide variety of classes offered on both the Oxford campus and through virtual options, summer programs combine academic benefits with plenty of fun and excitement for students.
Students are invited to join an online class or come to campus to explore and expand their intellectual world while developing confidence in their skills and making new friends.
Wendy Pfrenger, the associate director of pre-college programs, said that there is a wide range of both live and online summer programming options to fit the needs of families looking for summer learning opportunities for their K-12 students.
"This summer can offer students a chance to start feeling what it's like to get back into a normal routine and get them fired up about their interests again as they remember how much fun it is to learn and interact with other students," Pfrenger said.
"Summer programs are about taking the subjects you love and going deeper. There is more time to dig into fun activities that really help students learn."
Pfrenger also stated that through these programs students can gain ideas for future career options, make connections with UM faculty and staff, and foster a love of learning and creativity that can propel them for the future.
To facilitate live interactions, UM's on-campus summer programs are following safety protocols to help keep students healthy as they come to campus. There will be mask requirements inside buildings, class size limits will be implemented, and larger rooms and auditoriums will be usedto help participants spread out. Prescreening will take place outside of the building each morning to check for symptoms.
The popular Rebel Quest day camps are back on campus this summer, and now accepting registrations for rising 1st through 6th graders. These weekly programs allow families to mix and match weeks that work for their summer plans all while giving students a fun, learning experience.
There will be seven weeks of sessions running from June 1 through July 23. A few of this year's themes include "Mad Scientist," "Space is the Place," and "The Weird and Wonderful Wild."
Elementary school students also have an opportunity to explore the great outdoors for Ecology Day Camp, taking place at the UM Field Station in Abbeville. This is a great opportunity for students to investigate nature as they study birds, bugs, amphibians, and more.
Rising sixth through eighth graders also have several options for exciting summer learning starting with two virtual workshops for budding artists. 
The Creative Writing Workshop, offered online June 7-18 and the Figure Drawing Workshop, online June 14-25 will both help students learn more about tapping into their creative sides to bring stories to life.
There are various STEM (Science, Technology, Engineering, and Mathematics) options for middle schoolers to get hands-on experience as they participate in unique activities and experiments. 
Conservation Camp, taking place June 14-18, and Let's Build a Zoo, from June 28-July 2, will offer rising sixth-eighth-graders the opportunity to dig into ecology and wildlife in our region as they explore the UM Field Station and learn more about the world and creatures around us.
Space lovers will enjoy exploring what life could be like in the future during Living on Mars, offered July 12-16 on the Oxford campus.
FIRST® LEGO® Robotics Camp will be held on the Oxford campus July 19-23 as students engage in research, problem-solving, coding, and engineering to build and program a LEGO® robot that will navigate the mission of a game.
For high school students looking to get a head start on college, UM's Summer College for High School Students (SCHS) and the JumpStart program for incoming freshmen are both now taking applications for Summer 2021 enrollment. These programs offer students a taste of college life as they live on campus and complete two college courses for academic credit. Online classes through SCHS are also available for students who need to stay close to home.
High Schoolers can also get immersed in some of their favorite subjects through non-credit options offered both online and on the UM campus.
In the Reading and Illustration Workshop, students can dive into the novel "Ready Player One" as they spend two weeks in online discussions of the text while also developing images inspired by the book.
Participants will also hear from UM students and faculty in the art department as they discuss the study of art and career opportunities in the field. The class will meet online for 2-3 hours per day from May 31-June 11.
Other online options to help students expand their writing skills include Creative Writing, from June 14-25, and Writing for College Success, also offered June 14-25.
Another new digital camp experience, Journalism in the Age of Social Media, will shine a light on the art of sharing journalistic stories for the next generation.
Sharin Chumley, print media adviser and teacher at Tupelo High School, will serve as the instructor for this course. She says that that media outlets have seen a huge shift over the past year in how news stories are spread and shared and this course aims to help students learn about the new tools available to them.
"The pandemic has changed so much about our world," Chumley said. "Storytelling and news information sharing is no different. The tools and techniques that we utilize in this course can be used not only for journalism but also for many other tasks like creating interesting, interactive reports for schools."
Students who want to dive deeper into gothic literature can join the virtual course, Here There Be Monsters, from July 12-23. The class will take a journey through different variations of the genre to investigate more about these thrilling works.
The popular CSI (Crime Scene Investigation) Camp will return online this year from July 12-21 to help students increase their understanding of forensic sciences and other related science fields.
Budding scientists also have live program options to help them discover the world around them including, Environmental Engineering ­– Water Quality from July 19-23. Students will collect water samples and run tests to perform data analysis and more.
To learn more about materials engineering, students can participate in hydraulic press testing during Blast Lab, taking place July 26-30 on the Oxford campus.
Find out more about these and more summer program offerings on the Office of Pre-College Programs website.