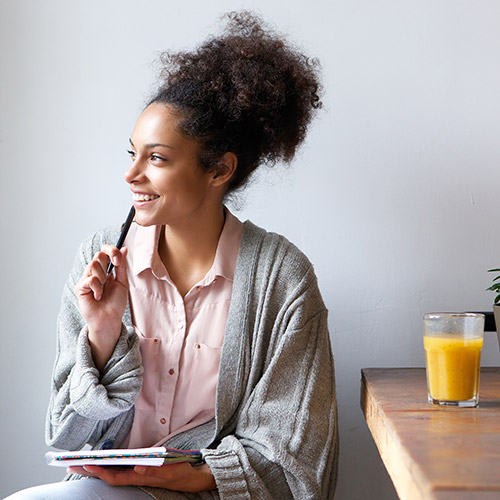 Creative Writing
Dates: June 14-25, 2021
Grades: Rising 9th through 12th graders
Cost: $150
Format: Virtual
Registrations Due: May 15, 2021
Of the many reasons we turn to creative writing, one of the most compelling is the prospect for discovery—of new insights, new points of view, new pleasures. Much of the best writing doesn't end where it begins, but wriggles and wrests instead, such that writers and readers are challenged to see things as they might not have before. Creative writing makes use of imagination, memory, and critical reflection, each of which can help us to discover what our words might finally express. Put another way, creative writing gives us the ability to take something we perceive to be well understood and to illuminate it by presenting it, with our own particulars, in an unfamiliar way.
In this two-week, virtual creative writing workshop, we will take a look at short selections from writers such as Brian Blanchfield, Chen Chen, Samantha Irby, Aimee Nezhukumatathil, Kay Ryan, Nafissa Thompson-Spires, Natasha Trethewey, and Tennessee Williams. In group discussions, we will work to identify some of the central questions posed by the readings, and we will consider the tools these writers use in exploring the complexities of their subject matter. Finally, in conjunction with our readings, we will complete several writing exercises that will give us the opportunity to investigate some of our own burning questions through poetry, personal essays, and short stories.
Daily Hours: Monday-Thursday, 8:00 AM-4:30 PM; Friday, 8:00 AM-2:00 PM
Move-in for residential students will be the Sunday prior to the camp's beginning. Details will be sent by email two weeks beforehand.
Lunch will be provided at Rebel Market for all students.
Residential students will live in the Residential College South, supervised by live-in counselors. All counselors are undergraduate students trained in the supervision of minors and background-checked. Evening recreational activities may include use of the campus recreational center, board games, and trips to locations on campus or in town.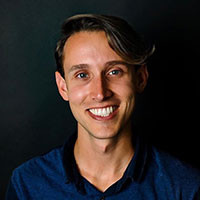 Michael Martella is an educator and writer from Brandon, Mississippi. He holds a B.A. in biology and English from the University of Mississippi and is completing his final year in the University of Mississippi's MFA program. He enjoys listening to bubble gum pop and indie R&B, drinking taro milk tea, and rollerblading around Memphis. His poems have appeared or will appear in Rattle, Rust+Moth, and the forthcoming Queer Nature anthology.
Registration for a camp or program is a two-part process – the online registration form and additional documentation. Both parts must be submitted to our office before a student is confirmed for enrollment in the program.
Register Online 
Step 1: Go to the online registration portal.
Step 2: Select the appropriate options and click "Add Event to Cart."
Step 3: Review your Cart Information and click "Checkout."
Enter your email address and click "Continue Unregistered."
Select the appropriate payment method and follow the prompts to complete the payment transaction. If you have a discount/scholarship code, you can enter it on the right side of the page and click "Apply."
Step 4: Enter the Student's Information, Parent/Guardian, Emergency Contact, and additional information. Click "Submit." You will receive an emailed receipt and confirmation of registration. Please retain a copy of this receipt for your reference and tax purposes.
Submit Waiver 
We value the safety and well-being of all our participating students in online environments. Please review and complete the online Waiver Form with the appropriate student and parent information to indicate consent to participation that includes the use of online applications and web resources.
Submit Agreement 
The Office of Pre-College Programs has set guidelines and rules in place for the safety of the students participating in our camps and programs. Please review and complete the online Agreement Form with the appropriate student and parent information.
For additional information, please contact:
Address: Outreach and Continuing Education, Office of Pre-College Programs, The University of Mississippi, P.O. Box 1848, University, MS 38677-1848
Phone: (662) 915-7621
Fax: (662) 915-1535
Email: precollege@olemiss.edu