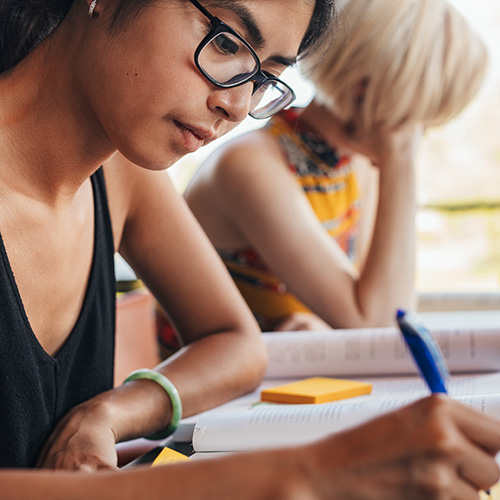 Writing for College Success
Writing Workshop
Dates: June 20-24, 2022
Grades: Rising 9th-12th grades
Cost: Residential $670/Commuter $350 <What's included in the cost?
Registration Due: May 15, 2022
Sponsoring Department(s): UM Office of Pre-College Programs and the UM Writing Center
Interested in improving your college application portfolio? Thinking about how to represent your personal accomplishments and professional goals in an essay? Wondering what university committee members and administrators look for in effective scholarship application essays? In this week-long summer workshop, you will talk with University of Mississippi faculty, staff, and administrators about personal writing in academic contexts. You will also receive training in how to craft personal essays that may be used in a variety of academic contexts, from scholarship application letters to college application essays.
Throughout the week, you will work with trained consultants to write and workshop a draft of your personal statement. You will review examples of effective personal statements, speak with undergraduates who have written successful application essays, and receive feedback from experts who have evaluated personal writing for academic purposes.
Sponsoring Department
UM Office of Pre-College Programs and the UM Writing Center
Financial Aid: McCullough-Greer Fund Scholarships
The McCullouch-Greer Fund to Advance Writing as a Civic Responsibility scholarship is available to students registering for the 2021 Writing for College Success workshop.
Must be participating in Writing for College Success.
Must demonstrate financial need.
Seats Available: 24 max
Eligibility
Be in good academic and conduct standing at the time of admission. The school can be public, private, parochial, or even home educated.
Complete the online application.
Residential students will live in a residence hall on campus, supervised by live-in counselors. All counselors are undergraduate students trained in the supervision of minors and background-checked. Evening recreational activities may include use of the campus recreational center, board games, and trips to locations on campus or in town.
Dr. Rachel Johnson
Dr. Johnson is the director of the University of Mississippi's Oxford Writing Center and a lecturer of composition and rhetoric. Her principal area of pedagogical interest and expertise is the integration of digital media and technology in composition and instruction. She teaches advanced composition and professional writing courses, as well as gender studies as a faculty affiliate for the Sarah Isom Center. Her research draws on writing center pedagogy and practice as well as issues of equity and access in higher education. She is interested in institutional and cultural norms surrounding writing and their effect on student perceptions of identity and ability. She is active in several professional organizations related to writing center practice and scholarship, including the International Writing Center Association and Southeastern Writing Center Association. She currently serves on the Board of the Mississippi Writing Center Association. Her favorite part of her job is getting to know students and helping them realize their potential as writers and professionals. Dr. Johnson is a lifelong Trekkie with a serious nostalgia for alien movies of the '70s and '80s. She welcomes any opportunity to discuss science fiction and the history of the horror genre with fellow nerds.
Registration for a camp or program is a two-part process – the online registration form and additional documentation. Both parts must be submitted to our office before a student is confirmed for enrollment in the program.
Register Online
Step 1: Use the link above to go to the online registration portal.
Step 2: Select the appropriate options and click "Add Event to Cart."
Step 3: Review your Cart Information and click "Checkout."

Enter your email address and click "Continue Unregistered."
Select the appropriate payment method and follow the prompts to complete the payment transaction. If you have a discount/scholarship code, you can enter it on the right side of the page and click "Apply."

Step 4: Enter the Student's Information, Parent/Guardian, Emergency Contact, and additional information. Click "Submit." You will receive an emailed receipt and confirmation of registration. Please retain a copy of this receipt for your reference and tax purposes.
Submit Medical Form
The Office of Pre-College Programs requires all participating students to have medical paperwork and emergency contact information on file if a student is registered for an in-person program. This information is used in the event an accident or emergency occurs involving a student participant.
Step 1: Complete our Medical Form.
Step 2: The following documentation must also be sent to the Office of Pre-College Programs: Outreach and Continuing Education, Office of Pre-College Programs, The University of Mississippi, P.O. Box 1848, University, MS 38677-1848.

Copy of Insurance Card (front and back sides) or Waiver of Insurance Form (included in Medical Form)
Copy of a Parent/Guardian's Driver's License (front and back sides)
For security of the student and parent's information, our office does not recommend emailing or faxing medical documents.
Submit COVID Compliance Form
In accordance with University of Mississippi guidelines and policy regarding COVID-19 health and safety for on-campus summer programs, all residential, commuter, or day camp students are required to have a custodial parent/legal guardian review and complete the online COVID-19 Compliance, Liability Waiver, and Assumption of the Risk Addendum Form with the appropriate student and parent information.
Submit Agreement
The Office of Pre-College Programs has set guidelines and rules in place for the safety of the students participating in our camps and programs. Please review and complete the online Agreement Form with the appropriate student and parent information.
Cancellations and Refunds
Registrations may be cancelled up to two weeks prior to the selected session to receive an 80% refund. Refunds are not available if cancellation occurs less than two weeks prior to the selected session. Full refunds will be issued if the camp is cancelled due to low enrollment.
For additional information, please contact:
Address: Outreach and Continuing Education, Office of Pre-College Programs, The University of Mississippi, P.O. Box 1848, University, MS 38677-1848
Phone: (662) 915-7621
Fax: (662) 915-1535
Email: precollege@olemiss.edu