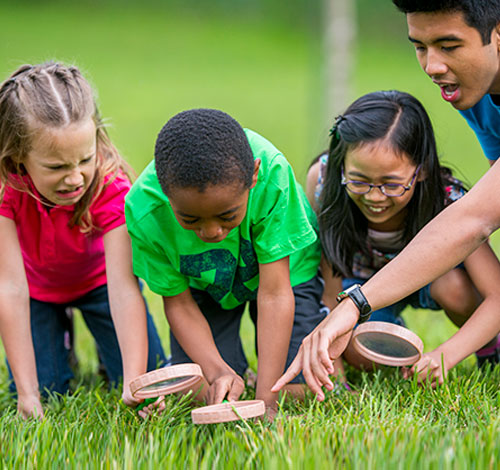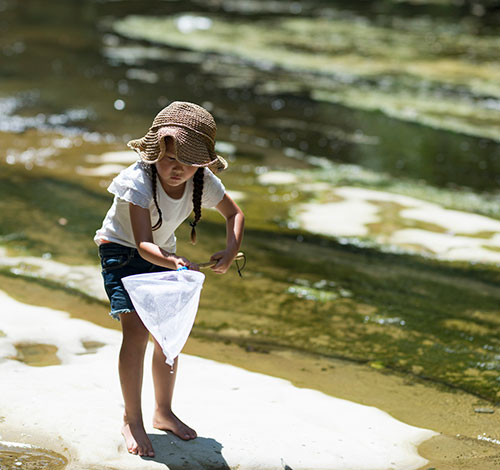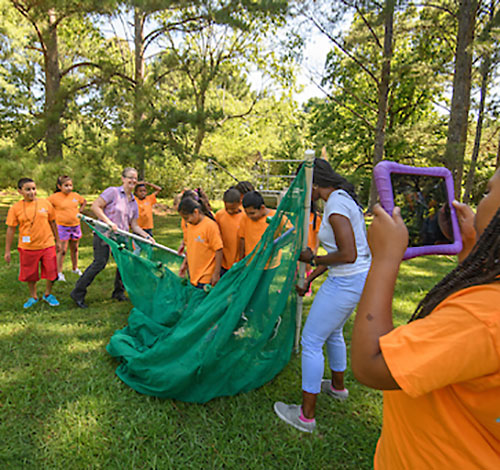 Ecology Day Camp
A Hands-On Experience at the Field Station
Sponsored in part by the Mississippi Department of Environmental Quality (MDEQ).
Grades: Rising 1st - 6th graders
Cost: $175/week
University of Mississippi Employees (full-time) may choose ONE of the following employee benefit options: Save $25 per week now by paying the full cost upfront with a card. –OR–
Choose Payroll Deduction – Full price ($175/week) of day camp taken out over six (6) pay periods starting with the first payroll of July. Available until June 15th.
Location: UM Field Station
Follow us on social media for sneak peeks, updates, and reminders. Want to get updates sent directly to your inbox? Sign up for our email list.
Step 1: Pay + Secure Spot Step 2: Online App + Forms Step 3: Medical Form + Upload
Explore the great outdoors in a whole new way and learn what you can do to protect our wild places. The UM Field Station offers classroom and lab settings indoors as well as the benefits of an active field research site. Campers will study birds, bugs, amphibians, reptiles, and aquatic creatures with the guidance of certified educators and conservation professionals. Activities vary with weekly themes but may include collecting and identifying plants and animals, spotting evidence of animal activities in the field station woods, comparing habitats, water sampling, using microscopes or scientific instrumentation, and creating art with natural materials. Daily snacks will be provided.
The Field Station is located at 15 Co Rd 202, Abbeville, MS 38601, just 20 minutes from downtown Oxford.
Sponsor Department: UM Biology Field Station and Office of Pre-College Programs
Camp Type: Day Camp
Seats Available: 20 max
Dates:
Week 1 - June 5 - 9: All About Birds (Rising 4th-6th Grades)
Week 2 - June 12 - 16: All About Bugs (Rising 1st-3rd Grades)
Week 3 - June 19 - 23: Water World (Rising 1st-3rd Grades)
Week 4 - June 26 - June 30: Leaves, Trees, & Rocks (Rising 1st-4th Grades)
Week 5 - July 10 - 14: Recycling (Rising 1st - 3rd Grades)
Week 6 - July 17 - 21: All About Fish (Rising 4th-6th Grades)
Daily Schedule:
| Time | Event |
| --- | --- |
| 7:30 – 8:00 a.m. | Morning Drop Off (UM Field Station, 15 County Road 2078, Abbeville) |
| 8:00 a.m. - 5:00 p.m. | Ecology Day Camp Activities |
| 5:00 - 5:30 p.m. | Afternoon Pick Up (UM Field Station, 15 County Road 2078, Abbeville) |
Regular Registration Deadline:
June Weeks: May 1st
July Weeks: June 1st
Late Registration Deadline:
An additional $15 late registration fee will be charged per week registered.
June Weeks: May 20th
July Weeks: June 20th
Registration Instructions
Registration for summer programs will be completed in three (3) steps. Completion of ALL three steps is required for a student's participation in any summer program. The full process is required to be completed within two (2) weeks of completing Step One.
STEP 1: Pay using the payment portal to secure your student's spot.
STEP 2: Complete the full online application and required online forms.
STEP 3: Download and complete the Medical Form and upload required documentation.
STEP 1: Pay and secure spot
Families can quickly secure their students' spot in a selected program and weeks by paying up front using our online payment portal. The payment portal presents program-specific options and asks for basic student details and custodial parent or legal guardian contact information.
Need to register for multiple weeks? Before proceeding to checkout, families can "continue shopping" and select additional weeks to add as needed – no need to pay one week at a time.
Multiple students? The current system can only take one student's information at a time. Please only complete one student's registration per order or transaction in order to prevent registration errors.
Upon completion, families will receive an automatic email with your receipt, six-digit Order Number, and an outline of the next steps.
BEFORE starting this step, please note the following:
Complete STEP ONE and note the six-digit Order Number on your Order Confirmation/Receipt email. If multiple orders were placed for the same student, please use the initial order confirmation number.
Estimated completion time will be 5-10 minutes.
STEP 2: Online App plus Forms
After securing their student's spot in a program, families will complete the online application portion of the registration process. The application requests the student's personal and academic details, parent or legal guardian information, and other additional details relevant to the student's application.
The online application also displays the following forms for a custodial parent or guardian's review, acknowledgement, and agreement:
Program Rules and Guidelines
COVID Liability Waivers
General Permissions
This step only has to be completed ONCE per summer. Additional program registrations will be connected to a student's application.
STEP 3: Medical Form plus Upload
Does NOT require immunization or shot records
The Medical Form packet includes three (3) forms – Form 1A: Treatment Consent and Liability Release (*required); Form 1B: Allergies, Restrictions, and Medications (if applicable); and Waiver of Health Insurance (if applicable). Families will download and complete the Medical Form and upload the following paperwork using our secure Box upload portal:
Completed Medical Forms 1A and 1B
Copy of a parent or guardian's Driver's License or state-issued ID
Copy of insurance card covering the student OR completed Waiver of Health Insurance Form (if applicable)
Scans or photos taken with a cell phone are acceptable as long as all details are clear and legible.
Important: Our office does NOT recommend emailing or faxing any medical form or related paperwork due to security concerns with these systems.
This step only has to be completed ONCE per summer. Additional program registrations will be connected to a student's application.
Post-Registration Details
The FULL registration process (all 3 steps) is required to be completed within a two-week period.
Incomplete or Inactive Registrations
After the two-week period, incomplete registrations or registrations without active progress toward completion will receive an Action Required email with a reminder to complete the registration process, remit any missing paperwork, or request an extension.
Extensions may be requested by email at precollege@olemiss.edu. Please include the student's full name and Order Number when making an extension request.
Attention: A late fee ($20) will be due prior to admission if a student's application is not completed or after three (3) weeks of inactivity, unless an extension is requested.
Fully Complete Registrations
Upon FULL completion of the registration process, families can expect to receive a Notice of Completion email. This notice will be sent by our registration team once all documentation has been fully reviewed and processed (estimated 4-5 business day response after final document received).
Additional Registration Options
Add More Weeks
Families may add and pay for additional weeks of a day camp or another day camp by completing Step 1 again (subject to availability). If Step 2 and 3 have already been completed for the upcoming summer, there is no need to re-complete those steps again.
Switch to Another Day Camp and/or Week
In cases of schedule conflicts, change in plans, etc., families may switch their student's registration to another program, session, or week (subject to availability) by completing the Day Camp Registration Update Form and paying a Program Change Fee of $10 per change.
Day Camp Registration Update Form
Cancel a Registration
Families may cancel a student's registration by completing Day Camp Registration Update Form. Cancelled registrations will receive a refund per the below Refund Policy.
Refund Policy
Registrations may be cancelled up to two (2) weeks prior to the selected program's start date to receive an 80% refund. Refunds are not available if cancellation occurs less than two weeks prior to the selected program's start date.
Full refunds will be issued if the programs (or selected week of program) is cancelled due to low enrollment.
We know you share our concern for the safety of our children and staff. Please review the following protocols to make sure you understand how we will be caring for everyone this summer. These may be revised as the university updates health guidelines in our changing conditions. Current UM mask guidance can be found on the university's COVID-19 Information page.
Pick-up and Drop-off
Families are asked to prescreen their children for COVID-19 symptoms prior to arrival. Any child with symptoms will be sent home.
During the Day
Masks are not required in instructional spaces, though participants may wear them if they choose.
Children and staff will practice good hygiene including regular handwashing before and after meals.
In the Case of Illness
A child with symptoms that manifest during camp will be isolated with supervision. We expect family to pick up their child as soon as possible.
In the event that a child tests positive for COVID-19, program staff should be notified immediately.
If a camp experiences an outbreak, the program will close for the week. Rooms will be sanitized.
Camps will follow university, MS Department of Health, and American Camp Association guidelines in determining when it is appropriate to shut down.
For additional information, please contact:
Address: Outreach and Continuing Education, Office of Pre-College Programs, The University of Mississippi, P.O. Box 1848, University, MS 38677-1848
Phone: (662) 915-7621
Fax: (662) 915-1535
Email: precollege@olemiss.edu