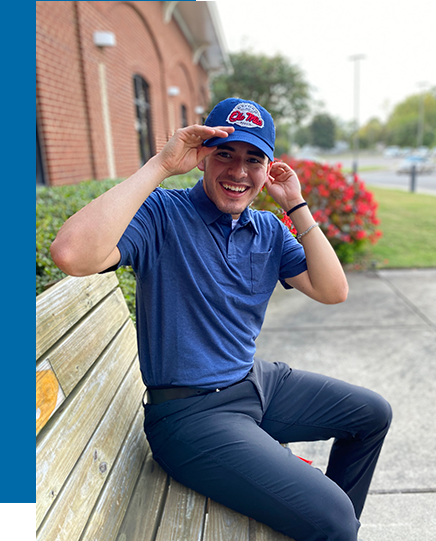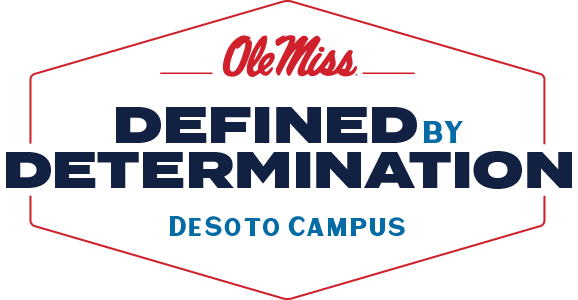 "Getting a bachelor's degree will affect my life tremendously. I believe you need to study and learn in order to live a fulfilling life."
Rodrigo Rodriguez Escutia
---
Newly an American Citizen, UM-DeSoto Student Pursues Finance Degree
…Rodrigo Rodriguez Escutia sets sights on business ownership
Family has always been the at the center of Rodrigo Rodriguez Escutia's life. In fact, the lessons he learned from them inspired him to pursue a finance degree at the University of Mississippi at DeSoto Center – Southaven.
"My parents have taught me so much about values and responsibility," Rodriguez Escutia said. "They taught me how to budget and manage my money. I've always loved math as well, so the finance degree program seemed to be a perfect fit."
Rodriguez Escutia is originally from Apaseo El Alto, a village in the state of Guanajuato, Mexico.
"I moved to Southaven because my father has lived most of his life here," he said. "He moved because job opportunities were scarce in Mexico. It was difficult for him to be separated from his family, so he filed for our entire family's green cards. After a long process, he was granted permission to bring us with him. That's how my story began in a new country."
Rodriguez Escutia graduated from Southaven High School in 2019 while taking dual credit courses. Financial responsibility came naturally to him at a young age. He worked full time at a Mexican restaurant during his junior and senior years while saving all the money he had. At a mere 20 years old, he has already saved enough for a small down payment on a home, he said.
He attended Northwest and then enrolled at Ole Miss DeSoto in the fall of 2020. He plans to use his degree to become a financial analyst, but business ownership is his ultimate "American" goal. This dream has become even more attainable now that he is officially an American citizen.
"What I most desired for when I turned 18 was to apply for my citizenship – that's all I wanted," he said. "My naturalization oath of allegiance was on July 3, 2019, a day before Independence Day. I celebrate both days now."
Unsurprisingly, Rodriguez Escutia credits his parents for their love and support during his citizenship process.
"It means the world to me to be a U.S. citizen," he said. "It's an honor for me to be a citizen of the best country in the world. The U.S. is home now, and I'm here to make a positive impact. It couldn't have been possible without my parents and their consistent work. I believe the process of becoming a U.S. citizen has made me love and appreciate the country that I am living in a little more than if I was just born here."
Rodriguez Escutia is no stranger to hard work thanks to his parents' example. His father began working on his grandfather's ranch at only 8 years old. Both of his parents persuaded him to get an education so that he could live life comfortably.
"They always express to me how much more difficult life can be without education – low-wage jobs, financial instability, living paycheck-to-paycheck, difficult to gain savings, etc.," he said. "They use their life experiences and people they've known to motivate me to do better."
The logical next step? Finishing his bachelor's degree.
"Getting a bachelor's degree will affect my life tremendously," Rodriguez Escutia said. "I believe you need to study and learn in order to live a fulfilling life."
Rodriguez Escutia has been encouraged by faculty and staff at the DeSoto Center. Specifically, Kacy Dixon, coordinator of student services, has made an impact on him.
"(Dixon) truly cares about her students and wants them to succeed," he said. "She's beyond a great professor and makes the experience at the University of Mississippi – DeSoto feel more like home."
Rodriguez Escutia would encourage anyone to enroll at the DeSoto Center.
"Even though I started during the pandemic, I love the people and the atmosphere here," he said. "It is convenient and affordable for my family. There are so many wonderful things about Ole Miss DeSoto."