UM-DeSoto
Since opening in 1996, the University of Mississippi–DeSoto campus in Southaven has met the educational needs of hundreds of north Mississippi residents. UM-DeSoto works in conjunction with Northwest and other area community college partners to help students complete their college degree through its bachelor's and master's degree programs. Junior, senior and graduate-level college coursework is offered through day, evening, and online courses. Students are able to continue working, maintain important roles in family life, and stay active in the community.
UM-DeSoto currently offers undergraduate courses in accountancy, business, criminal justice, education, integrated marketing communications, liberal arts, paralegal studies and social work. Master's level degrees are offered in accountancy, elementary education (master's and specialist), educational leadership (master's and specialist), and integrated marketing communications.
Between the spring and summer semesters, and the fall and spring semesters, students may participate in intensive Intersession courses, which meet five nights a week for two weeks. These include Wintersession during the beginning of January, May Intersession in the final weeks of May, and August Intersession which is offered in the first weeks of August.
Students also have the option to enroll in Summer School courses that are offered in various semester terms including: First Summer (June), Second Summer (July) and Full Summer (June and July). Please contact a UM-DeSoto admissions counselor to prepare for enrollment in your semester of choice.
Locating UM-DeSoto
The campus is located off I-55 at 5197 W.E. Ross Parkway, traveling west from the Church Road exit off the Interstate.
Parking
Safe, convenient, and ample parking is available at the DeSoto Center. Specific parking spaces are reserved for official vehicles, faculty and staff, and for persons with disabilities. Guests should park in the designated spaces near the front of the lot and check in with Northwest Mississippi Community College police. Vehicles parked at the DeSoto Center campus or Oxford campus that do not have a parking decal or temporary permit will be ticketed according to NWCC procedures and penalties.
Accreditation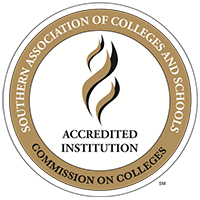 The University of Mississippi is accredited by the Southern Association of Colleges and Schools Commission on Colleges (SACSCOC) to award baccalaureate, master's, specialist, first professional, graduate certificates, and doctoral degrees. Questions about the accreditation of the University of Mississippi may be directed in writing to the Southern Association of Colleges and Schools Commission on Colleges at 1866 Southern Lane, Decatur, GA 30033-4097, by calling (404) 679-4500, or by using information available on SACSCOC's website.
The accreditation of this off-campus site is dependent on the continued accreditation of the parent campus.
Visit the University of Mississippi Accreditation page.