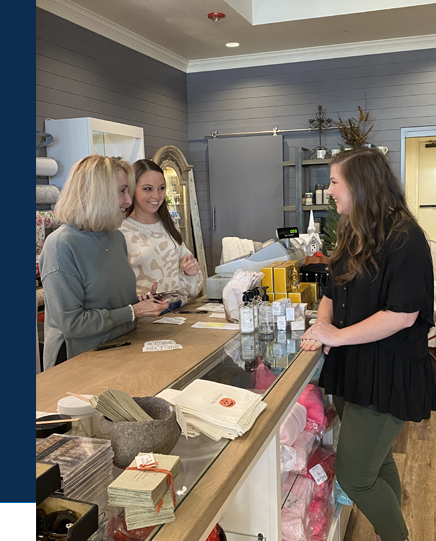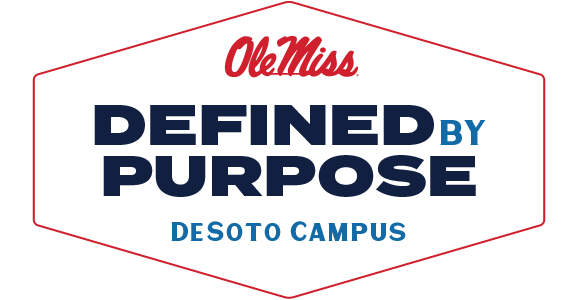 "I enjoy my job so much. Being able to see the good in the community and helping small and large business owners is so rewarding."
Leah Brigance
---
Ole Miss DeSoto graduate uses IMC degree to support local businesses
…Brigance serves as marketing coordinator for Southaven chamber
As marketing coordinator for the largest business organization in northern Mississippi, Leah Brigance is putting the skills that she learned at Ole Miss DeSoto into practice.
Brigance, who hails from Olive Branch, graduated from the University of Mississippi at DeSoto Center-Southaven with a bachelor's degree in integrated marketing communications in May of 2020.
She began working as the marketing coordinator for the Southaven Chamber of Commerce prior to her graduation in November of 2019. Her responsibilities range from managing the chamber's social media accounts to promoting their events.
"I enjoy my job so much," she said. "Being able to see the good in the community and helping small and large business owners is so rewarding."
Brigance understood the importance of service and community from the beginning of her time at the DeSoto Center. She served as a campus ambassador and president of the Phi Theta Kappa Alumni student organization. Undoubtedly a star student, Brigance was also awarded the Dean's Award from the School of Journalism upon her graduation.
"Leah made her mark at Ole Miss DeSoto by being involved and helping to promote our campus," said Kacy Dixon, UM-DeSoto coordinator of student services. "I am so proud of her accomplishments at the chamber and of her commitment to our DeSoto County business community."
Ask Brigance about one of her favorite college memories and she will emphatically mention Food Truck Day. The annual event brings together students, local food truck owners and community members for a day of food and fun on campus.
"Food Truck Day is a memory that I will cherish and miss greatly," she said. "In fact, you might still find me at future Food Truck Days, because they are truly the best."
Brigance also fondly remembers the positive interactions she had with her professors. This is one of the many reasons that she would encourage others to enroll at the DeSoto Center.
"I benefitted a lot from the small classrooms," she said. "I was able to have more one on one time with my teachers."
In addition, Brigance cited scholarship opportunities, overall cost and location as reasons she was thankful to attend Ole Miss DeSoto.
"Being in DeSoto County my whole life, it was great that I could get a degree right here in Southaven," she said.
As for future plans, Brigance will continue to advocate for the chamber and its members. Communication has been even more critical for the organization since the beginning of the coronavirus pandemic.
"We are promoting and supporting our members and DeSoto County more than ever," Brigance said. "The entire chamber staff has been in contact with more than 700 individuals in the business community providing resources and vital information during this pandemic. We have advocated for business owners with Congressman Kelly's office, the Governor's office, Mayor (Darren) Musselwhite, the U.S. Chamber of Commerce and the Small Business Administration in D.C. We have also collaborated with area chambers of commerce to ensure consistent and the most up-to-date information is available."
Brigance is grateful for her experience at Ole Miss DeSoto and for all that she learned in the integrated marketing communications program.
"Earning my bachelor's degree is something that I always strived for," she said. "It is an accomplishment that I will be proud of for the rest of my life. I want to say thank you to my teachers and school leaders that have been so encouraging and helpful along the way. I think I am well-prepared for the world because of them. I'll forever miss Ole Miss DeSoto."