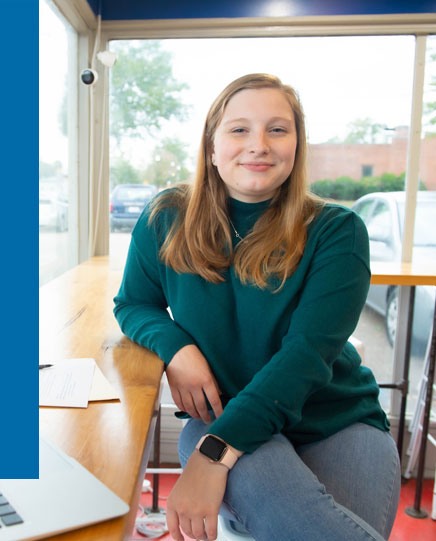 Cathryn Crawford
---
Cathryn Crawford, of Saltillo, graduated last year from the University of Mississippi-Tupelo with a bachelor's degree in Integrated Marketing Communications.
Here are a few thoughts and tips from Caty for fellow transfer students.
Q: Why did you decide to transfer to the Ole Miss-Tupelo campus.
After completing my first two years of college courses at Northeast Community College, attending UM-Tupelo was the stand out option for me. I was able to receive more scholarships which led to fewer student loans! The atmosphere was also so friendly and down-to-earth. It was a great learning environment for me.
Q: How has completing your degree affected your life?
I gained the knowledge and confidence to succeed in my field. It has helped me go into the marketing communications field where I have found a job I'm passionate about and happy to go to each day.
Q: Did you have the opportunity to get involved at UM-Tupelo?
Yes! I had the chance to be a part of a few student organizations including serving as a student ambassador at UM-Tupelo and being a part of the student law organization.  It was a great way to meet people and gain experience for my resume.
Q: What would you tell a friend who was considering working on their degree at UM-Tupelo?
110% do it. It's a great place to go and learn. They are so welcoming and understanding of who you are and what you want to be. They want to help you in any way possible.
Think Ole Miss-Tupelo might be right for you? Speak to an advisor or apply today.