UM-Tupelo
The educational needs of hundreds of Northeast Mississippi residents are met each year at The University of Mississippi-Tupelo. The UM-Tupelo program has grown from a handful of courses taught in four rooms of a downtown office building in the early '70s to more than 120 courses offered each semester in the new and spacious Advanced Education Center (AEC), a facility shared with Itawamba Community College and Mississippi University for Women.
It was in September of 1972 that the growing needs of non-traditional students led to major expansion in the Tupelo program. Since that time, over 3,000 courses have been taught in a wide variety of fields, with a total enrollment of more than 25,000. Courses taught at the campus are selected, as much as possible, to meet the needs of students wanting to earn college credit while maintaining full-time employment or meeting family commitments.
The University offers undergraduate courses in accountancy, business, criminal justice, education, health sciences, liberal arts, paralegal studies, and social work. Graduate courses are offered in education. Junior and senior-level undergraduate courses complement freshman and sophomore-level courses offered by area community colleges. A Learning Resource Center with internet access is operated by ICC. The AEC has interactive videoconferencing facilities, networked computer labs, and large and small group conference facilities.
Classes generally meet one night per week, from 6:00-8:45 p.m., Monday through Thursday, during the Fall and Spring semesters. Intensive intersessions are offered between the Spring Semester and Summer Terms, between the Fall and Spring Semesters, and between the Summer Terms and the Fall Semester when classes meet five nights per week for two weeks. Summer Term courses also meet several nights per week.
For more information call (662) 844-5622.
Locating UM-Tupelo
The UM-Tupelo campus is located at the Tupelo Advanced Education Center, 1918 Briar Ridge Road, Tupelo, Mississippi.
Vehicle Registration And Parking
Safe, convenient parking is available at the Advanced Education Center. Parking spaces are marked reserved for persons with disabilities. Any non-reserved parking spaces are available on a first come, first serve basis.
Vending Area
Vending machines are located on the 3rd floor. Students must consume food and beverages prior to returning to classrooms. No food or beverages are allowed in classrooms.
Tobacco-Free Campus
No Tobacco products are permitted on the UM-Tupelo Campus. ICC-Tupelo (and Fulton) are posted as "tobacco free" campuses.
Accreditation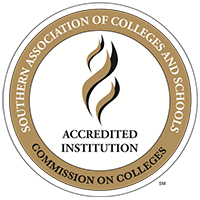 The University of Mississippi is accredited by the Southern Association of Colleges and Schools Commission on Colleges (SACSCOC) to award baccalaureate, master's, specialist, first professional, graduate certificates, and doctoral degrees. Questions about the accreditation of the University of Mississippi may be directed in writing to the Southern Association of Colleges and Schools Commission on Colleges at 1866 Southern Lane, Decatur, GA 30033-4097, by calling (404) 679-4500, or by using information available on SACSCOC's website.
The accreditation of this off-campus site is dependent on the continued accreditation of the parent campus.
Visit the University of Mississippi Accreditation page.