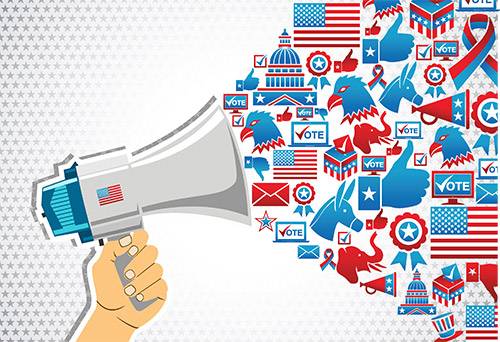 Washington, D.C.
Political Media
Credit hours: 3
Dates: On campus: May 15-19
On location: May 21-26, 2017 in Washington, D.C.
Cost: $950
Application Deadline: April 6
Itinerary subject to change. Students should wait to make travel arrangements after confirming dates and times with instructor.
To Register
Click here to download registration forms.
Students will:
Review the landscape in which citizens and voters receive political information
Identify potential political bias in the media, why it happens, and what it means
Analyze campaign advertising for both political and policy considerations
Design a media campaign for a political candidate
Location:
Students will spend 6 days in Washington, D.C. Shared accommodations will be provided near Capitol Hill. Students can explore the city during "free time" and visit notable Washington, DC sites like the National Mall and Memorial Parks and Smithsonian Museums.
Who should go?
This program is for political science students. IMC, journalism, public policy, and English students might also be interested.
Dates:
Students will meet on the Oxford campus May 15-19 then spend May 21-26 in Washington, D.C.
Travel:
Students will make their own travel arrangements to and from Washington, D.C. Shared accommodations will be provided in D.C.
Costs:
Course fee is $950. Included in the course fee are housing and select group meals. Excluded from the cost are the Study USA application fee, tuition, airfare, and personal spending money.