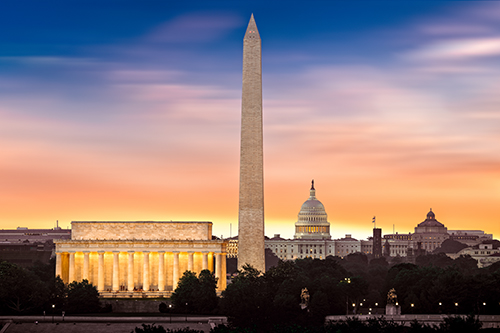 Washington, D.C.
Environmental Ethics
Credit Hours: 3
Instructor: Dr. Neil Manson
Dates: :  January 6-11, 2019 in DC, Dates in Oxford TBD between January 3-5 & January 12-16
Cost: $1,195
Application Deadline: November 8, 2018

Itinerary subject to change. Students should wait to make travel arrangements after confirming dates and times with instructor.
Students will:
During this course, students will meet with various policy experts and representatives of advocacy organizations, followed by on-campus discussion of philosophical issues relating to environmental ethics.
Visit think tanks like the Center for American Progress and the Competitive Enterprise Institute to discuss the role of economic reasoning in analyzing environmental policy
Discuss the permissibility of using animals as experimental subjects with representatives from advocacy organizations such as PETA (People for the Ethical Treatment of Animals) and the Foundation for Biomedical Research
Tour the Chesapeake Bay Foundation to see a real case of ecological crisis management
Location:
Who should go?
This course is for students of philosophy, political science, public policy leadership, environmental studies, and international studies.
Dates:
January 3-16. Students will be in Washington, DC from January 6-11. Dates in Oxford TBD.
Travel:
Students will make their own travel arrangements to and from Washington, DC and meet with the group at the hotel at a time designated by the instructor. The group will stay at the Capitol Hill Hotel, or similar accommodations.
Costs:
Course fee is $1,195 plus tuition. Included in the cost are housing, select group dinners, tours, and activities. Study USA application fee, tuition, airfare, meals other than the group dinners, and personal spending money are excluded from the course fee.