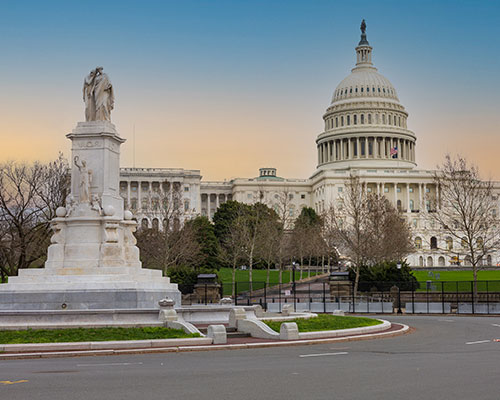 Washington, DC
Applied Politics
Dates: January 4-5, 2024 in Oxford, MS; January 7-12, 2024 in Washington, DC
Credit Hours: 3
Instructors: Dr. Jonathan Klingler, Assistant Professor of Political Science
Course Fee: $1,395 plus tuition
Application Deadline: October 5, 2023
*Itinerary subject to change. Students should wait to make travel arrangements until after confirming dates and times with instructors.
Spend 5 days in the nation's capital learning about applied politics as it relates to political campaigns and elections
Visit campaign operatives and meet with Democratic and Republican consultants
Meet with interest groups, lobbying, and other public relations firms
Meet with elected officials
Gain an understanding of day-to-day life as a campaign professional
See how media outlets work to cover campaigns and elections
Students majoring in political science, public policy leadership, sociology, and psychology may find this course of interest.
Students will have pre-departure class meetings on the Oxford campus on January 4 and 5.
Students will make their own travel arrangements, arriving in Washington, DC on January 7 and leaving on January 12. The instructor will provide a specific meeting time and location for arrival. Group ground transportation in DC will be provided. Shared accommodations will be provided near Capitol Hill.
Study USA students may have their airfare billed to their bursar account. Details available upon enrollment.
Program fee is $1,395. Included in the fee are housing, group ground transportation, and select group meals. Tuition, airfare, meals other than group meals, and personal spending money are excluded from the program fee.
Study USA offers two scholarship opportunities to students participating in our programs. Students can apply as part of the overall application for a course.
There are no prerequisites for this course.