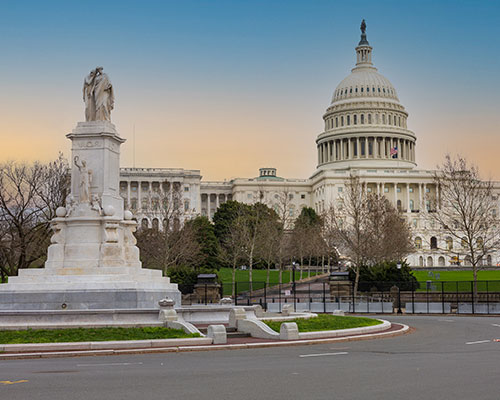 Washington, DC
Politics: Campaigning and Elections
Dates: January 5-6 in Oxford, MS; January 9-13 in Washington, DC*
Credit Hours: 3
Instructors: Dr. Jonathan Klingler, Assistant Professor of Political Science
Course Fee: $1,115 plus tuition
Application Deadline: November 4, 2022
*Itinerary subject to change. Students should wait to make travel arrangements until after confirming dates and times with instructors.
Spend 5 days in the nation's capital learning about applied politics as it relates to political campaigns and elections
Visit campaign operatives and meet with Democratic and Republican consultants
Meet with interest groups, as well as lobbying and other public relations firms
Meet with elected officials
Gain an understanding of day-to-day life as a campaign professional
Students will have required class meetings in Oxford on January 5th & 6th, and will then travel individually to Washington, DC, on January 8th. The instructor will determine time and location of Oxford meetings and notify participants closer to the meeting dates. Class activities will be conducted in Washington, DC, January 9th through 13th.
Students majoring in Political Science, Public Policy, Sociology, and Psychology may find this course of interest. There are no prerequisites to enroll in POL 398.
Students are responsible for making their own travel arrangements to and from Washington, DC. Ground transportation in DC will be provided for program activities.
The program fee is $1,115. Included in the fee are housing, group ground transportation, and some group meals. Excluded from the program fee are tuition, travel expenses to/from Washington, and personal spending money.