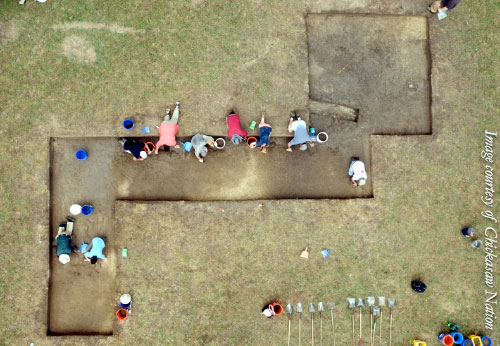 Starkville, Mississippi
Archaeological Field Session
Credit hours: 6
Instructors: Dr. Tony Boudreaux, Associate Professor of Anthropology and Director of the Center for Archaeological Research
Dates: May 28 - June 26, 2018
Cost: $995 plus tuition
Application Deadline: May 4, 2018
To Register
Click here to download registration forms.
*Please verify specific dates with instructor and confirm that the course has adequate enrollment to make before making travel arrangements.
*Itinerary subject to change.
Students will:
explore a former location of a 16th to 17th century Native American settlement near Starkville, Mississippi.
learn the basic techniques of archaeological field methods including excavation, mapping, surveying, record keeping, and artifact identification.
learn about public archaeology by working with various stakeholders, including landowners, local residents, and descendant communities.
enhance problem-solving and research skills.
Location:
Students will be based at Mississippi State University in Starkville, Mississippi. Shared accommodations will be provided at the MSU residence halls.
Who should go?
This course is open to all students; there are no prerequisites.  Majors who may find this course of interest include anthropology, classics, history, geology, geography, and Southern studies.
Dates:
May 28- June 22 in Starkville
Travel:
Students will arrange their own travel to and from Starkville. Group ground transportation will be provided.
Costs:
Program cost is $995 plus tuition. Included in the cost are housing, group ground transportation, some class materials, and administrative fees. Excluded from the cost are the Study USA application fee, tuition, meals, travel expenses to/from