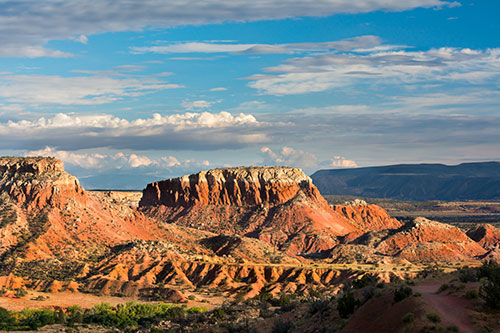 Santa Fe, New Mexico
Geological Engineering Design
Field Camp 2
G E 401
Credit hours: 3
Instructors:
Dr. Robert M. Holt, Professor of Geology and Geological Engineering
Dr. Lance Yarbrough, Assistant Professor of Geology and Geological Engineering
Dr. Dennis Powers, Visiting Professor of Geology and Geological Engineering
Dates: June 1-14, 2018
Cost: $1,695 plus tuition
Application Deadline: April 5, 2018
To Register
Click here to download registration forms.
*Please verify specific dates with instructor and confirm that the course has adequate enrollment to make before making travel arrangements. Itinerary subject to change.
** Due to housing availability dates for 2018, Engineering will approve overrides for students to take GE 401 BEFORE taking GE 301 this summer.
Students will:
Learn advanced applications of geological engineering field instruments and techniques
Enhance geologic observation and interpretation skills
Prepare geologic and engineering reports, maps, and figures
Work on geologic engineering mapping exercises on topics like hydrology, environmental applications, hazards engineering, and more
Explore the historic and unique town of Santa Fe
Location:
Students will spend two weeks in and around Santa Fe, New Mexico. Shared accommodations in the residence hall at St. John's College will be provided.
Who should go?
This program is for geology and geological engineering majors. Students must have successfully completed GE 301, GEOL 303, GEOL 305, and ENGR 340.**
Dates:
Students will travel to Santa Fe, New Mexico, for arrival on Friday, June 1 and depart on Thursday, June 14, 2018.
Travel:
Students will make their own travel arrangements to and from Santa Fe. Students can fly into either Albuquerque International Sunport (ABQ) or Santa Fe Municipal Airport (SAF). From Albuquerque, students must make arrangements for travel to Santa Fe, either by private vehicle or via Sandia Shuttle. Group ground transportation in Santa Fe will be provided.
Costs:
Program cost is $1,695 plus tuition (non-resident students who are ineligible for Academic Common Market waivers due to residency will receive a Study USA waiver for the non-resident fee). Included in the cost are housing, group ground transportation, meals, selected course materials, tours, and admission fees. Excluded from the cost are the Study USA application fee, tuition, travel expenses to/from New Mexico, and personal spending money.