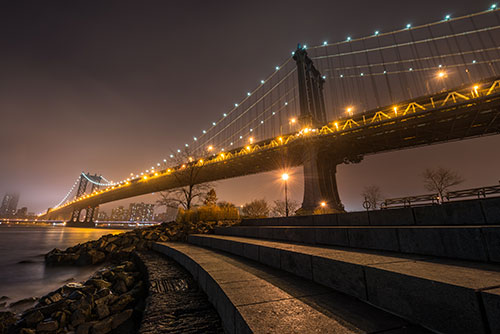 New York City
Bridges of New York
Credit hours: 3
Instructors: Dr. Chris Mullen, Associate Professor of Civil Engineering
Dates: May 16-18, 2018 (on campus), May 20-25, 2018 (New York)
Cost: $1,125 plus tuition
Application Deadline: April 20, 2018
To Register
Click here to download registration forms.
*Please verify specific dates with instructor and confirm that the course has adequate enrollment to make before making travel arrangements.
*Itinerary and class dates are subject to change.
Students will:
Learn the common types of bridges, typical span ranges, and basic structural design concepts. 
Learn the historical and political context of selected Hudson and East River bridges in the metropolitan New York City area.
Experience the scale and technological achievement of NYC bridges by visiting select sites, including one or more of the bridges operated by the Port Authority or MTA, and the newly opened Mario Cuomo Bridge.
Discover the impact of major bridges on the transportation system in New York.
View depictions of major bridges in the artwork of the city's world-class museums.
Visit other New York City sights of interest from a civil engineering standpoint, such as the Stuyvesant School Bridge, the High Line, the Guggenheim Museum, and the World Trade Center Transportation Hub.
Meet professionals responsible for design, maintenance, and rehabilitation of bridges.
Location:
Shared hotel accommodations will be provided at The Pod 39 or a comparable hotel.
Who should go?
This course is open to all majors. Students who might be interested include Civil, Geology and Geological Engineering, Mechanical, and General Engineering; International Studies; Art and Art History; History; Political Science; Public Policy Leadership; Business; and Journalism and New Media majors. Engineering majors seeking technical elective credit must have junior standing and complete specific technical assignments to fulfill the requirements. Engineering students should check with their advisors to ensure they enroll in the appropriate course to fit their elective credit requirements.
Dates:
Students will attend class on the Oxford campus May 16-18 and then depart for New York City on Sunday, May 20. They will spend five nights in New York City, returning on Friday, May 25.
Travel:
Students will make their own travel arrangements to and from New York. Airfare can be billed to their bursar account by making arrangements through Amber Gregory at Travel Leaders at AGregory@travelleaders.com or (800) 624-6579, ext. 151.
Costs:
The course fee is $1,125 plus tuition. Included in the course fee are accommodation, tours, one group meal, and group ground transportation once in Manhattan. Excluded from the course fee are the Study USA application fee, tuition, meals, airport transportation, airfare, and personal spending money.