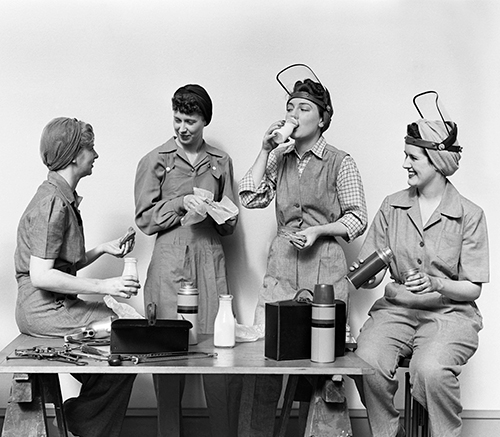 New Orleans, LA
From Homemakers to Bomb Makers: Women in WWII
Dates: May 16-20, 2022 (on campus), May 22-27, 2022 (NOLA)*
Credit Hours: 3
Instructors: Kevin Cozart, Coordinator of Community Engaged Learning and Research for the Sarah Isom Center for Women & Gender Studies
Course Fee: $950 plus tuition
Application Deadline: April 7, 2022
*Itinerary and class dates are subject to change. Please verify specific dates with instructor and confirm that the course has adequate enrollment to make before making travel arrangements.

Learn how gender impacted the lives and jobs of Americans before, during, and after World War II.
Explore the ways traditional women's roles were repurposed to support the war.
Articulate the role of propaganda in recruiting women to contribute to the war effort.
Discuss the war years and the women's equality movement of the 1960s and 1970s.
Visit the National World War II Museum and spend a day exploring its exhibits.
Dig into the archives at Tulane to complete primary source research while in New Orleans.
Dates: Students will attend class on the Oxford campus May 16-20, 2022, and then meet in New Orleans on Sunday, May 22. They will spend five nights in New Orleans, returning on Friday, May 27.
Location: While in New Orleans students will stay in group accommodations in the Warehouse District and visit sites including the National World War II Museum and Tulane University.
This course may interest students in the Humanities and Social Sciences (particularly History, Sociology, Gender Studies, English, African American Studies, Journalism, IMC, Writing, and Education) as well as students enrolled in General Studies.
Students in the following organizations may also be interested in this cross-listed course: UM Pride Network, UM NAACP, RASA, Students Against Social Injustice, and FEMISS, as well as students affiliated with the Center for Inclusion & Cross-Cultural Engagement and the William Winter Institute.
There are no prerequisites to register for G St 395.
Students will make their own travel arrangements to and from New Orleans. Shared accommodations will be provided at a hotel near the Warehouse District. Airfare can be billed to their bursar account by making arrangements through Amber Gregory at Travel Leaders, agregory@travelleaders.com, or 901-507-8463.
The Study USA program fee is $950 plus tuition. Included in the program fee are accommodation, entrance to museums and other class activities, select group meals, and group ground transportation in New Orleans. Excluded is travel to and from New Orleans, most meals, and personal spending money.