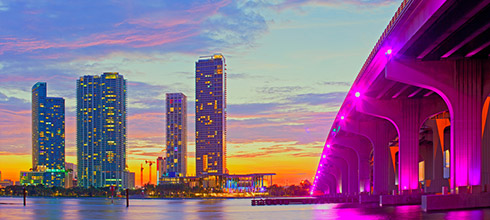 Miami, Florida
Studio Art on Location
Credit Hours: 3
Instructor: Robert Malone, Adjunct Assistant Professor of Art
Dates: January 4, 5, and 13 in Oxford, January 6-12 in Miami
Cost: $850 plus tuition
Application Deadline: November 3, 2016
Itinerary subject to change. Students should wait to make travel arrangements after confirming dates and times with instructor.
To Register
Click here to download registration forms.
This studio art course will consist of various mixed media art projects and sketchbook assignments.
Week One will consist of creating master copies as sketchbook assignments. Students will then create their own projects using the appropriated master works.
Week Two will consist of visiting museums and galleries in Miami, Florida. Students will continue to create master copies of works as viewed during museum and gallery excursions. A second, and final project will be created from these sketches.
Students will:
Location:
Oxford, Mississippi and Miami, Florida
Who should go?
Students must have at least junior academic standing and instructor's approval. All majors are welcome as there are no prerequisites.
Dates:
Students will meet on the Oxford campus on January 4, 5, and 13. Miami activities are January 6-12.
Travel:
SStudents will make their own arrangements to and from Miami and will meet at times designated by the instructor. Shared accommodations will be provided at the Freehand Miami.
Costs:
Program cost is $850 plus tuition. Included in the cost are accommodations, two group meals, tour fees, and museum admission. Study USA application fee, tuition, airfare, additional meals, class supplies, and personal spending money are excluded from the course fee. Students are required to bring a digital camera.