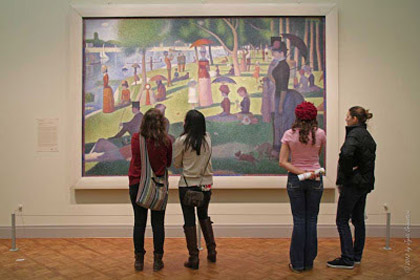 Chicago
Studio Art on Location
Credit Hours: 3
Instructor: Robert Malone, Adjunct Assistant Professor of Art
Dates: August 3-5, & 12-15, 2015 (on campus); August 6-11, 2015 (Chicago)
Cost: $1,035 plus tuition
Application deadline: April 6
Itinerary subject to change. Please verify specific dates with instructor and confirm that the course has adequate enrollment to make before making travel arrangements.

To Register
Click here to download registration forms.
Students will:
Location:
Students will spend six days in Chicago with time on the Oxford campus before and after travel.  Shared accommodations at a Chicago hotel will be provided.
Who should go?
This course is for art students or others interested in exploring the Chicago art scene.  The prerequisite for this course is ART 101.
Dates:
Students will meet on campus August 3-5, 2015, then spend August 6-11, 2015, in Chicago before returning to Oxford for a second class time August 12-15.
Travel:
Students will make their own arrangements to and from Chicago and meet with the group at a designated time.  Airfare can be billed to your bursar account by making arrangements through Regina Bryant at Travel Leaders at rbryant@travelleaders.com or (800) 624-6579, ext. 133.
Costs:
Program cost is $1,035 plus tuition. Included in the cost are housing, two group meals, tours, group ground transportation, and museum admission fees. Study USA application fee, tuition, airfare, meals other than group meals mentioned above, class supplies, and personal spending money are excluded from the course fee.