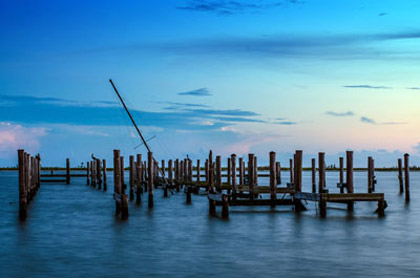 Biloxi, MS
Mississippi's Katrina Stories: Ten Years Later
Credit Hours: 3
Instructors: Dr. Nancy Dupont , Associate Professor of Journalism  
Dates: On campus: May 11-13, 2015 and May 20-22, 2015; On location: May 14-19, 2015
Cost: $850 plus tuition        
Application deadline: April 6
Itinerary subject to change. Students should wait to make travel arrangements after confirming dates and times with instructor.
To Register
Click here to download registration forms.
Students will:
Work closely with WLOX-TV in Biloxi, MS, in their preparation for coverage of the Hurricane Katrina ten-year anniversary
Produce media to be published for the University of Mississippi Meek School of Journalism and New Media
Become familiar with the award-winning coverage done by Mississippi journalists
Gain first-hand knowledge of the challenges Gulf Coast leaders have faced in the past ten years
Location:
Students will spend a short time on the Oxford campus followed by one week in Biloxi, MS, and along the Gulf Coast. Accommodations will be at the Holiday Inn Express Long Beach.
Who should go?
This program is for journalism students who have completed JOUR 102 or IMC 205 or other interested students with some journalism experience who have permission from the instructor.
Dates:
The program dates are May 11-22, 2015, with time being spent in Oxford on the Ole Miss campus and on the Mississippi Gulf Coast.  
Travel:
Students will make their own travel arrangements to and from Biloxi, MS.
Costs:
Program cost is $850 plus tuition. Included in the cost are housing, tours, and select group meals. Excluded from the cost are the Study USA application fee, tuition, airfare, and personal spending money.