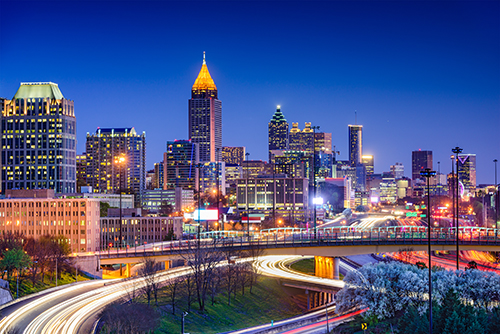 Atlanta, Georgia
Corporate Applications of IMC
IMC 580
Credit hours: 3
Instructor: Chris Sparks, Assistant Professor of Integrated Marketing Communication
Dates: May 14 - 20, 2018
Cost: $950 plus tuition
Application Deadline: April 5, 2018
To Register
Click here to download registration forms.
Itinerary subject to change. Please verify specific dates with instructor and confirm that the course has adequate enrollment to make before making travel arrangements.
Students will:
Travel to Atlanta, GA, home of The Coca-Cola Company.
Spend a week exploring the interaction between brand marketing and integrated marketing communication in an international corporation.
Meet and learn from marketing and advertising professionals working for one of the world's strongest brands.
Tour the world headquarters of The Coca-Cola Company and visit the World of Coca-Cola.
Have the opportunity to tour the headquarters of CNN and take a flight on Skyview Atlanta.
Location:
Students will travel to Atlanta, GA and spend most of the week in the corporate offices of The Coca-Cola Company.
Who should go?
This course may interest IMC, Journalism, and Marketing Students. Students must have junior standing and have successfully completed IMC 205, JOUR 102, or MKTG 351 prior to the start of May Intersession to register.
Dates:
The dates are May 14-20, 2018. Students will need to be in Atlanta, GA by the afternoon of May 14th, and the class will conclude in the afternoon of May 20th.
Travel:
Students will make their own arrangements to and from Atlanta, GA. Students driving to Atlanta should be prepared to pay for parking charges at the hotel, or to make offsite-parking arrangements. Travel on location will be primarily on foot.
Costs:
The course fee is $950 plus tuition. Included in the course fee are accommodations, most lunches, select group dinners, course related ground transportation, and site admission fees. Excluded from the course fee are the Study USA application fee, tuition, other meals not noted above, airport transportation, airfare, and personal spending money.