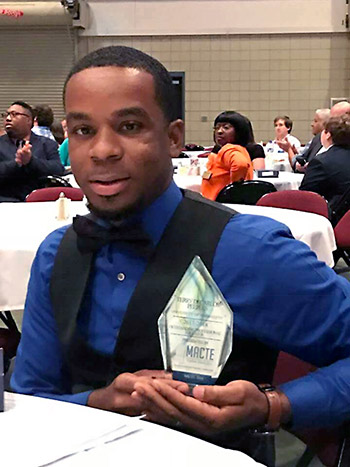 Peeples Receives Outstanding Professional Educator Award
Graduate of Grenada regional campus hopes to set an example for his students.
OXFORD, Miss.­­­ – The Mississippi Association of Colleges for Teacher Education has named Vaiden native Terry Peeples as one of Mississippi's Outstanding Professional Educators of the Year.
The annual award is given to one graduate from each of 15 Mississippi colleges and universities. Peeples, who graduated from the University of Mississippi's Grenada regional campus in 2015, was chosen to represent the UM School of Education.
Peeples has set an example for current and future teachers with his determination, drive and hard work during his three years as a full-time teacher at Winona Elementary School, said Karen Davidson Smith, UM clinical assistant professor of curriculum and instruction.
"Terry is receiving this honor because he has continuously demonstrated outstanding character and professional dispositions in his school by growing students, building an outstanding relationship with parents and the community, and being an advocate for his school district," Smith said.
Peeples attended J.Z. George High School before transferring to Old Dominion Christian School in Kosciusko, where he graduated in 2008. He began his college career as a nursing major at Holmes Community College's Grenada campus.
After transferring to another community college for a short time, he had a change of heart concerning his career path, and returned to Holmes-Grenada to work on his associate degree in elementary education.
"There were not a lot of guys in the education field, but I felt like students need better male role models," Peeples said.
He later transferred to the UM Grenada campus, where he graduated with a bachelor's degree in education in May 2015. That summer, he was hired as a fourth-grade math and science teacher in Winona.
Peeples jumped right into developing as a teacher by joining the UM Center for Math and Science Education's Developing Excellence in Education through Professional Learning Communities, or DEEP, summer institute program. The program was developed to help teachers foster a classroom environment that helps students grasp a strong understanding of mathematics, make sense of problems, construct viable arguments and use the structure of mathematics.
"The DEEP learning community program gave me a great start as a math teacher," Peeples said. "Going through the program helped me to think outside the box, and it gave me techniques to help challenge my students."
In fall 2016, Peeples experienced another major career event when he was selected by Winona school officials to attend the Ron Clark Academy in Atlanta, along with five others from the school district.
"It's the dream for teachers," Peeples said. "The innovative teaching philosophies I learned there will forever impact the way I teach.
"I learned how to incorporate music into my lessons, make my classroom instruction more student-led and reduce behavior problems down inside the classroom. I watched some of the greatest teachers in the world teach lessons, and it opened my eyes to a whole new world as a teacher."
Peeples said he gained a better understanding of educational relationships that need to be fostered with students and their parents, and he also explored the learning benefits of incorporating fun and music into lessons.
"I get their attention by playing music they like, mostly the instrumentals," Peeples said. "The students know, though, that we have to be working. The music is just motivating us to work through the math problems, and sometimes I don't even talk.
"I'm at the board working problems both correctly and incorrectly to see if they catch on to the mistakes."
Peeples' unique teaching style went viral this past year when a video of him walking on desks in his classroom while teaching a science rap garnered hundreds of views on Facebook.
Peeples said another important lesson he learned at the academy is how to command his class and hold students responsible for their behavior.
"It really works," he said. "Behavior problems have been cut down drastically."
Peeples is working toward his master's degree in educational leadership with the goal of someday becoming a school principal. He and his wife, Mercedes, are already teaching a love of math to their two children, Jaerrius and Nadia.
"Even on the hard days when I feel like I can't get through to particular students, I try to remember that they are just kids, and I'm still making a positive impact on their lives," Peeples said.
"Growing up, I learned that it is better to look up to and imitate the people around me who were doing the right things and staying out of trouble. I hope I will inspire my students to do the same."