Grenada Graduate Earns UM Student Teacher of the Year Award
School of Education recognizes Mary Courtney Self for outstanding work.
GRENADA, Miss. – Mary Courtney Self, of Grenada, was caught off-guard when her name was called for a special award during the University of Mississippi at Grenada's annual graduation celebration earlier this spring.
"I was shocked," Self said. "I had no idea I was being considered for this honor."
During the evening's program, Karen Davidson-Smith, assistant clinical professor of education, announced Self as the recipient of the 2018 Robert W. Plants Outstanding Student Teacher of the Year award. She was chosen for the award from hundreds of senior education majors graduating from five different Ole Miss campuses.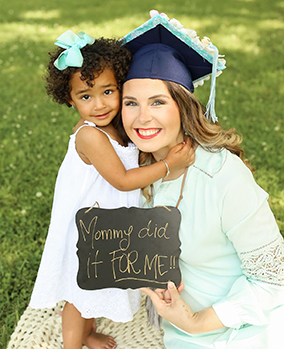 "Mary Courtney excelled at every opportunity to make and extend connections between teaching theory and teaching practices," Davidson-Smith said. "She used a variety of teaching methods and techniques this semester that helped her students learn in the ways that suited each student best."
The annual award is named for longtime UM faculty member Robert W. Plants, a former chair of the curriculum and instruction department. Each year the School of Education recognizes an exceptional student who stood out during their semester long student-teaching practicum with the award.
"Ever since I was little, I knew I wanted to be a teacher," Self said. "I felt like my instructors were invested in me and my future, and I wanted to do the same for others."
Self graduated from Grenada High School in 2013 and enrolled at Holmes Community College's Grenada campus. In fall 2014, she took a break from her studies and spent a semester working in the Disney College Program at Walt Disney World in Florida.
"I wanted to have an experience," she said. "I worked at different restaurants and had the opportunity to meet a lot of different people from all over the world."
Upon her return to Mississippi, Self enrolled in the junior year of the Bachelor of Elementary Education program at the university's Grenada regional campus.
"Going to UM-Grenada was the best thing for my daughter and myself," she said.
Diane Brewer, a teacher at Grenada Lower Elementary for more than 20 years, served as the lead teacher and clinical instructor in the first-grade class where Self interned this spring.
"Mary Courtney has the natural instincts to be a great teacher," Brewer said. "She would see a few students lagging behind in a concept we were teaching, and she would spend the extra time working with them until they understood."
Self said she will be fulfilling her lifelong dream when she begins teaching sixth-grade English at Grenada Middle School this fall.
"I'm not just teaching English and grammar," Self said. "I'm helping to mold students into the people they are going to become."