Application
Teachers interested in applying need to complete an application and submit with requested information by January 18, 2019.
For further information call
(662) 915-7925.
2019 Invitational Leadership Institute for Teachers
Dates: February 16, April 6, and June 17-28, 2019
Institute Meeting Time: 8:30-3:30 pm
Program Fee: $300 per teacher
An Invitation for Teachers
Each of the 200 National Writing Project sites holds an invitational leadership institute every summer. Several thousand teachers participate each year in these invitational leadership institutes, and every year new groups of summer fellows at local sites describe their summer institute experience as "a space of critical reflection so essential to good practice," "causing a noticeable and great shift in all of my teaching," "the best professional development I have had in all my years of teaching."
The invitational leadership institute is at the core of the NWP's model of "teachers teaching teachers." The institute develops teachers as leaders, teachers as learners, and teachers as writers.
During each institute, teacher participants examine the most pressing issues related to the teaching and learning of writing across the curriculum. Participants demonstrate and reflect on their own best practices and strategies, and they study current research in the field. Our leadership team is dedicated to fostering an interdisciplinary community and support system of teachers from all grade levels and across the curriculum.
The UMWP Invitational Leadership Institute allows teachers to…
Discover opportunities for instructional leadership
Discover the latest in literacy pedagogy
Learn about implementing the Mississippi College and Career Ready Standards and the next generation of assessments
Develop their own writing lives through participation in writing workshops and response groups
Earn three semester hours of graduate credit supported by a scholarship from the Division of Outreach
Join The University of Mississippi Writing Project teacher network
Teachers in all grade levels and all subject areas in north Mississippi schools are eligible to apply for admission to the UMWP Invitational Leadership Institute.
---
Area Teachers Chosen as UM Writing Project Summer Fellows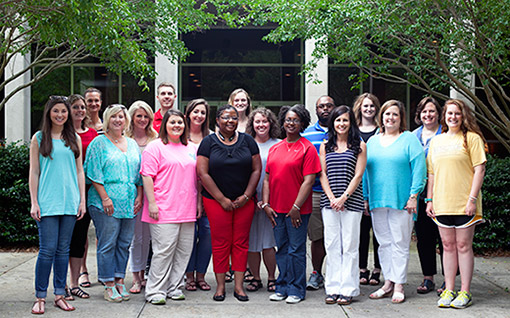 2016 UM Writing Project Fellows include (FRONT L to R): Mary Coker of Blue Springs, Paige Whitten of Batesville, Amanda Moore of Baldwyn, Gennella Graham of Corinth, Wendy Sharp of Olive Branch, Kerri Case of Oxford, Kim Bridges of Olive Branch and Lauren Stanford of New Albany. (MIDDLE L to R) Leigh Anne Eaton of Nettleton, Jessica Easley of Vardaman, Katelyn Sappington and Brandi Coope both of New Albany, Devan Tate of Booneville and UM Writing Project Director Ellen Shelton of Oxford. (BACK L to R) Tamara Warhol of Oxford, Josh Green of Hernando, Jamie Glenn of Guntown and Megan Garner of Tupelo.