Two Grandmothers Receive University's Highest Academic Honor
From 'I can't go back to school' to earning Taylor Medals, new graduates aim to make a difference
OXFORD, Miss. – Lori Fain, of Sherman (pictured above on the left), and Brenda Raper (pictured above on the right), of Nettleton, are both busy mothers and grandmothers who not only spend time investing in their families but are beginning careers that also will allow them to invest in the lives of others in their community.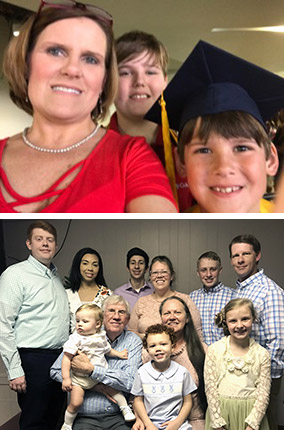 As students at the University of Mississippi at Tupelo, both ladies' efforts are being honored this spring as recipients of 2018-19 Marcus Elvis Taylor Memorial Medals.
Only the top 1 percent of all students enrolled at the university receives this award each year. Recipients must have at least a 3.90 grade-point average to be considered and receive nominations from UM faculty.
"Brenda is truly one of those students I will never forget," said Svjetlana Curcic UM associate professor of education. "We tend to assign a label of a 'nontraditional student' to those who enroll in college at a later day.
"In Brenda's case, she has been a teacher of not only her own children, but other children in our community for years and by going back to school later in life, she has proven that she wants to become the best teacher she can be."
Upon graduating from Itawamba Agricultural High School in 1980, Raper married and started working as a clerk at the Lee County Tax Collector's office in Tupelo. She and her husband, Danny Samuel Raper, started a family and soon added three children to their home.
While raising children, she taught everything from 4-year old pre-K through fifth-grade classes in the private school housed at the Tupelo Children's Mansion for 11 years. At the end of the 2012 academic year, the school program had to lay off employees, and Raper found herself at a crossroads.
"My husband encouraged me to go back to school and get my degree," Raper said. "I told him that I didn't think I could do that, but he was very supportive and encouraged me until I finally decided to try."
So, in 2014 at age 52, she enrolled at Itawamba Community College and started her college career.
"I was very nervous, but on the first day everyone treated me kindly and like one of the other students," she said. "I really enjoyed my classes and realized more and more that I was doing the right thing by going back to school."
After excelling at ICC, Raper transferred to start her junior year of classes on the UM-Tupelo campus. During her time there, she stayed involved in student organizations and worked to maintain her 4.0 GPA.
This spring she served as a student teacher in a third-grade classroom at Rankin Elementary School in Tupelo.
"I just love seeing the students learn and grow," Raper said. "It's a special job that I feel I was made for."
Fain attended East Union High School before getting married and moving to Washington in 1990. A few years later, she returned home to Sherman and earned her GED at ICC in 1993.
Her family soon began expanding with the addition of her four children. Throughout this time, she worked as a phlebotomist with United Blood Services and later as an office manager with a local dentist.
After a divorce and unexpected job loss, Fain began to experience financial issues.
"I lost everything," she said. "I lost my house, my car, and had to move home with my mother. I had my pity party for about a year, until I decided I had to do something so I might as well get ahead."
That's when she decided to work toward earning her bachelor's degree in social work.
Fain said she decided to major in social work because she wanted to help people who might find themselves in the same situations she had struggled with.
"People can get lost," Fain said. "I want to help other people who may be going through some hard times just like I did.
"If I had known about some of the resources that were available to me, I might could have stayed in my house. I want to help people when they need it the most."
During her senior year, Fain helped to organize a "Kids Fest" event at Ballard Park in Tupelo. The event had free games and prizes for children while raising awareness for child abuse prevention.
"Not only did Lori excel academically, she was a leader with peers," said Shane Robbins, a social work instructor at the regional campus. "Her passion to help others and be a leader in this field has been evident throughout her time at UM."
Because of Fain's life experiences, she demonstrated a unique ability to problem-solve in real-world scenarios, said Jandel Crutchfield, an assistant professor of social work at UM-Tupelo.
"We need more social workers like Lori, who can use critical thinking to create the most effective interventions possible for their clients," Crutchfield said. "I believe she will make an important impact in this field."
Fain said she has learned so much about herself throughout her time at Ole Miss.
"Even though when I started college I knew I wanted to help people, through my studies and my internship experiences, I have learned a better way to look at myself and how to empathize with other people," she said. "I've learned how to step out of my place and into someone else's situation to work toward the best solution to meet their needs."