Inaugural Scholarship Awarded to UM Summer College for High School Participant
Oxford High senior Carlos Sanchez earns scholarship from The Citizens Bank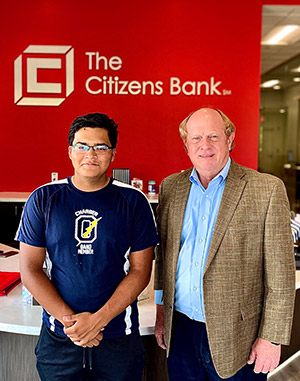 OXFORD, Miss. –  As a senior at Oxford High School, Carlos Sanchez works hard to excel in his classes and his student leadership roles while also serving as the drum major for the Oxford Charger Band.
Sanchez had an opportunity to get a jump-start on college this summer by attending the University of Mississippi Summer College for High School Students (SCHS). This program offers rising high school juniors and seniors an opportunity to live on the Oxford campus, enroll in freshmen-level courses, and adjust to college life in the summer.
Through SCHS and the financial assistance of a new scholarship offered to SCHS participants by The Citizen's Bank of Philadelphia, Sanchez completed four college courses this summer.
"The Citizens Bank scholarship has helped make it possible for the UM Summer College Program to connect students with the classes they're passionate about and really explore their interests with the added benefit of small summer class sizes and additional enrichment experiences," said Wendy Pfrenger, the associate director of the UM Pre-College Programs office said.
Sanchez was the inaugural recipient of a special scholarship created by The Citizens Bank to give high school students an opportunity to get a head start on college and their future careers.
Marion Boyd, regional vice president and commercial lender with The Citizens Bank's Oxford office said that the organization wanted to invest in local students at the beginning of their academic journey.
"College gives you the start you need, and can open up all sorts of ideas about what kind of career you want to have," Boyd said. "It gives you the foundation for your future, and we want to support students in their education because we think it's important for our whole community."
"It's our turn to contribute to the success of students in Oxford and throughout the state."
Pfrenger said the new scholarship opportunity is helping to bring this valuable program within reach for more students.
"Summer College is about so much more than academics; it's about bringing a group of students with different interests and talents from different backgrounds together," she said.
"This scholarship helps us attract talented students with a passion for learning into our program, which is a win not only for the scholarship recipient but also for the whole Summer College community."
Sanchez, the scholarship recipient, said one of the most important lessons he learned from his time at UM this summer was time management.
"It was great having more independence, but it was also a good learning experience on how to handle school work and downtime," Sanchez said.
"Now, I know more what to expect with college. It's a lot less confusing now that I understand how everything works."
Pfrenger said that Sanchez was a standout student in the program who was ready to engage in the variety of learning and experiential activities.
"Carlos really distinguished himself on every level," Pfrenger said. "Of course, his academic performance was exceptional, and we heard great things from his professors, but he also contributed so much to the quality of our community.
"He was all-in on every activity, whether it was a blacksmithing demo by art professors or a tour of the National Center for Physical Acoustics, he was there, and he was asking questions."
Pfrenger said that when the scholarship committee began reviewing student applications for the new award, they wanted to choose students who stood out both academically and in terms of involvement in diverse activities.
"When the committee saw Carlos' application, they knew he would set the standard for future applicants," Pfrenger said.
Marion Boyd of Citizen's Bank said that the company is committed to investing in local students like Carlos.
"We have to show them we care," he said. "They will be the leaders of the world one day and they need our support, not just financially, but also emotionally."
We are interested and hopeful for their future."