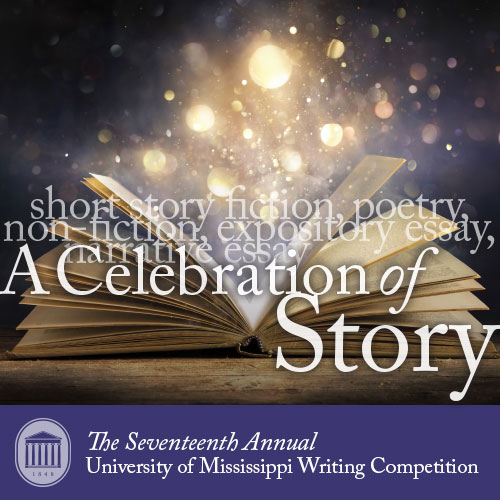 UM Writing Competition
2021 Theme: A Celebration of Discovery
Teacher Workshop: October 13, 2021
Student Submissions Due: January 28, 2022
Awards Ceremony: February 15, 2022
Grades: 7th – 12th
The University of Mississippi Writing Competition is an annual teachers workshop and mail-in competition for the state of Mississippi and neighboring schools in the Alabama, Arkansas, and Tennessee areas.
The Writing Competition consists of multiple writing categories, all revolving around a central theme. The categories offered include:
Essay (narrative or expository)
Poetry
Short Story
All projects listed above must adhere to the Writing Competition theme listed at the top of the page.
Sponsor: UM Writing Project, Office of Pre-College Programs, Division of Outreach and Continuing Education
Competition Type: Online/Mail-In Submission
Competition docs: Rules/Rubric
The University of Mississippi Writing Competition Teachers Workshop provides educators with the opportunity to learn how to incorporate the competition and theme into their classroom. The workshop is not mandatory for teachers to attend in order for their students to compete.
Cost: $35
Location: Virtual Workshop via Zoom
Time: 4:15-5:45 pm (subject to change)
Entries will be judged on literary merit and usage/grammar appropriate to grade level. The work is not to be taken from or based upon any writing by any author famous or unknown, student or adult - or from any published or unpublished source such as a book, magazine, literary anthology, or the like. Judges will be teacher consultants from the University of Mississippi Writing Project.
Competition Rules
The competition is open to students currently enrolled in grades 7th-12th.
Entries should consist of original pieces of writing:

Poetry
Short Stories
Essays

Acceptable format of entries:

Typed using Microsoft Word or another word processor
Double-spaced on one side of paper only. No double-sided printing.
12 point font, Arial, Calibri, Times New Roman

Maximum word limit:

1,500 words for 7th-8th grades
3,000 words for 9th-12th grades

Project Submission Form should be stapled to the front of the entry

NO NAME should appear on the entry itself. Entries with names will be disqualified.
Titles are required on the entry and should match the title provided on the submission form. Titles should be punctuated correctly. No underlining or quotation marks of titles on original work.
Entries should NOT be bound or laminated and should NOT include a cover or filler sheet.
For additional information, please contact:
Address: Outreach and Continuing Education, Office of Pre-College Programs, The University of Mississippi, P.O. Box 1848, University, MS 38677-1848
Phone: (662) 915-7621
Fax: (662) 915-1535
Email: precollege@olemiss.edu