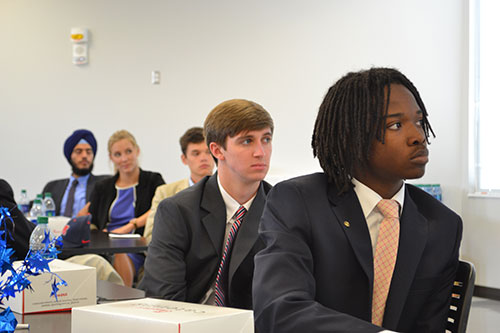 Pathways to Leadership
Dates: July 10 - 14, 2023
Move In: July 9, 2023
Grades: Rising 11th and 12th graders
Cost: $200
School Nominations Due: February 14, 2023

*Information will be sent to schools in January.
The Trent Lott Leadership Institute, since its inception in 2000, has had as its primary mission to prepare young people to assume positions of leadership in an increasingly complex world. Our principal goal is to assist qualified students to gain a valuable supplement to their academic training and the chance to be better prepared as a leader in their own communities and for their future college careers. Through the Lott Leadership Pathways to Leadership Workshop, students will be able to better define their leadership styles and objectives, gain a greater appreciation of local and state leadership traditions, and enhance their desire to become contributing members of their communities.
This conference begins with a welcome event Sunday evening. Monday brings workshops and breakout sessions led by first-rate faculty and professionals, examining Leadership Principles, Local Leadership, and Civic Engagement. On Tuesday, we'll have a quick debrief and tour the aquarium before dismissing students. In addition to tangible informational takeaways, participants have a unique opportunity to develop rapport with other young leaders in our state. The information exchange among peer groups provides an immediate reinforcement for the work being done in the breakout sessions.
Your registration includes hotel stay, aquarium admission, and food for the duration of the program.
*Participants must be nominated for this program by their school administration. Students will be sent registration information via email.
For additional information, please contact:
Address: Outreach and Continuing Education, Office of Pre-College Programs, The University of Mississippi, P.O. Box 1848, University, MS 38677-1848
Phone: (662) 915-7621
Fax: (662) 915-1535
Email: precollege@olemiss.edu