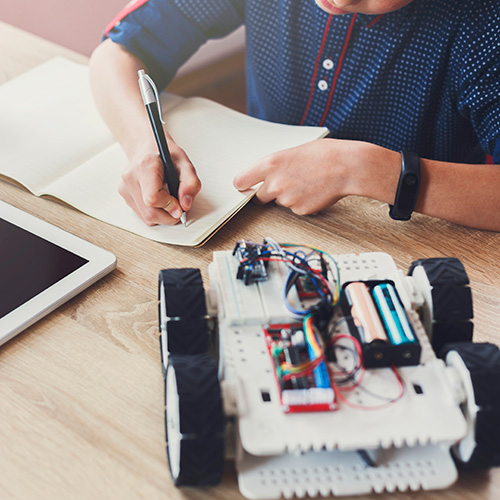 STEM Camp for Boys
Dates: July 5-10, 2020
Grades: Rising 6th, 7th grades, and 8th grades
Cost: $650 Residential / $350 Commuter What's included in the cost?
Registration Due: June 1, 2020
STEM Camp for Boys is a week-long camp that provides boys in rising 6th-8th grades an opportunity to explore the fields of science, technology, engineering, and mathematics. Each day will focus on a new concentration in these areas. Men working in these fields will host lectures each morning and campers will spend the afternoons participating in hands-on activities related to the day's topic. Tours of related and interesting facilities will also be conducted throughout the week.
Sponsoring Department: The Office of Pre-College Programs
Camp Type: 1 Week Residential or Commuter, non-credit
Seats Available: 24 max
Eligibility
Be in good academic and conduct standing at the time of admission. The school can be public, private, parochial, or even home educated.
Complete the online application.
No child who meets the above eligibility requirements will be denied admission to the program on the basis of sex or gender.
This camp is eligible for CREATE scholarships. You must be a resident of Pontotoc, Union, or Lee counties, and attending a public school, to be eligible for the scholarship made available through the Toyota Wellspring Fund at the CREATE Foundation. Scholarships cover the entire cost of attending select camps. Each individual may qualify for only one scholarship per summer.
#STEAM #WorkforceDevelopment #Perseverance #ProblemSolving
Day of the Week
Morning Activities
8:00am – 12:00pm
Afternoon Activities
1:00pm – 4:30pm
Sunday
Move-In, Orientation
Monday
Tuesday
Wednesday
Thursday
Friday
Move-Out
Daily Hours: Monday-Thursday, 8:00 AM-4:30 PM; Friday, 8:00 AM-2:00 PM
Move-in for residential students will be the Sunday prior to the camp's beginning. Details will be sent by email two weeks beforehand.
Lunch will be provided at Rebel Market for all students.
Residential students will live in our middle school residence halls supervised by live-in counselors. All counselors are undergraduate students trained in the supervision of minors and background-checked. Evening recreational activities may include use of the campus recreational center, board games, and trips to locations on campus or in town.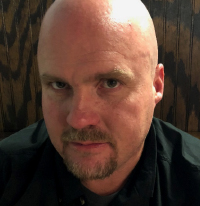 Steven Goodgame is a computer science teacher at Lafayette Middle School. He is the creator of the first MakerSpace in his district, as well as one of the first middle school makerspaces across the state. He has been teaching for 17 years. For more on his interests in MakerSpaces, check out his blog: www.thepaperlesstrail.com.
Registration for a camp or program is a two-part process – the online registration form and additional documentation. Both parts must be submitted to our office before a student is confirmed for enrollment in the program.
Register Online

Step 1: Go to the online registration portal.
Step 2: Select the appropriate options and click "Add Event to Cart."
Step 3: Review your Cart Information and click "Checkout."
Enter your email address and click "Continue Unregistered."
Select the appropriate payment method and follow the prompts to complete the payment transaction. If you have a discount/scholarship code, you can enter it on the right side of the page and click "Apply."
Step 4: Enter the Student's Information, Parent/Guardian, Emergency Contact, and additional information. Click "Submit." You will receive an emailed receipt and confirmation of registration. Please retain a copy of this receipt for your reference and tax purposes.

Submit Medical Form

We value the safety and well-being of all our participating students. In the event that any emergency or medical attention arises, ALL camps and programs require parents to submit medical forms on behalf of the student. Please DO NOT forget to return this form to our office as this will hold up the registration process for your student. If you have already submitted the medical form for a camp this summer, you will not have to submit it again. We do not retain medical documentation from previous summers.
Step 1: Download and complete the Summer Medical Form (PDF link at top of page) with the appropriate student and parent information.
Step 2: Attach a copy of:

Student's insurance card,
Parent's driver's license
Any other medical documents needed to seek treatment

Step 3: Send the form and attachments to our office at: Outreach and Continuing Education, Office of Pre-College Programs, The University of Mississippi, P.O. Box 1848, University, MS 38677-1848.
For the security of you and your student's information, please do not email or fax medical forms to our office. We request that you mail or bring the forms to our office.

Submit Agreement

The Office of Pre-College Programs has set guidelines and rules in place for the safety of the students participating in our camps and programs. Please review these guidelines and rules and discuss with your student(s) before the first day of the program. The Agreement Form is available at the top of the page.
For additional information, please contact:
Address: Outreach and Continuing Education, Office of Pre-College Programs, The University of Mississippi, P.O. Box 1848, University, MS 38677-1848
Phone: (662) 915-7621
Fax: (662) 915-1535
Email: precollege@olemiss.edu