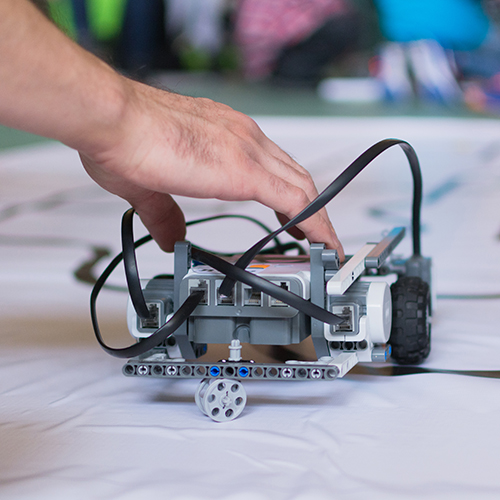 First Tech Challenge Robotics
Dates: July 12-17, 2020
Grades: Rising 9th - 12th grades

Cost: $700 Residential / $400 Commuter with a lab fee of $40 What's included in the cost?
Registrations Due: May 1, 2020
In this camp, you will work together in groups of 2-3 to design, build, and program a unique robot.  Robots will be made of metal and plastic and be up to 18"x18"x18" in size and be programmed using a blocks-based or text-based version of the JAVA language.  At the end of the week, you will then compete with and against the robots created by other student groups. Through this fun and engaging program, you will learn the real life applications of science, math, and engineering.  When you return to school in the fall, you can create a FIRST Tech Challenge robotics team and compete with over 70 teams from all around Mississippi.
Sponsored by: the UM Center for Mathematics and Science Education
Eligibility
Be in good academic and conduct standing at the time of admission. The school can be public, private, parochial, or even home educated.
Complete the online application.
This camp is eligible for CREATE scholarships. You must be a resident of Pontotoc, Union, or Lee counties, and attending a public school, to be eligible for the scholarship made available through the Toyota Wellspring Fund at the CREATE Foundation. Scholarships cover the entire cost of attending select camps. Each individual may qualify for only one scholarship per summer.
#STEAM #WorkforceDevelopment #Teamwork #ProblemSolving
Day of the Week
Morning Activities
8:00am – 12:00pm
Afternoon Activities
1:00pm – 4:30pm
Sunday
Move-In, Orientation
Monday
Tuesday
Wednesday
Thursday
Friday
Move-Out
Daily Hours: Monday-Thursday, 8:00 AM-4:30 PM; Friday, 8:00 AM-2:00 PM
Move-in for residential students will be the Sunday prior to the camp's beginning. Details will be sent by email two weeks beforehand.
Lunch will be provided at Rebel Market for all students.
Residential students will live in the Residential College South, supervised by live-in counselors. All counselors are undergraduate students trained in the supervision of minors and background-checked. Evening recreational activities may include use of the campus recreational center, board games, and trips to locations on campus or in town.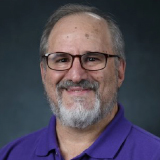 Mannie Lowe is currently the FIRST Program Manager for the Center for Mathematics and Science Education at the University of Mississippi. He coordinates the FIRST® Tech Challenge program for Mississippi. Mannie has helped grow this program in Mississippi from 4 teams to over 60 since 2012. Mannie is a firm believer in the mission of FIRST® (www.firstinspires.org) and how it can impact students. He has coached and mentored several FIRST Tech Challenge, FIRST Robotics Competition, and FIRST LEGO League teams to award-winning seasons, as well as serving as a resource to many other coaches and mentors throughout the country. In 2016, Mannie was honored as the FIRST Tech Challenge International Volunteer of the Year.
Prior to moving to Mississippi, Mannie was a software engineer and project manager for several companies in the Atlanta, GA area. Mannie also taught computer science and robotics at Atlanta's Pace Academy, a private K-12 school. Mannie is co-author of Winning LEGO MINDSTORMS Programming with James Trobaugh and hopes to author a book on the FIRST Tech Challenge.
Registration for a camp or program is a two-part process – the online registration form and additional documentation. Both parts must be submitted to our office before a student is confirmed for enrollment in the program.
Register Online

Step 1: Go to the online registration portal.
Step 2: Select the appropriate options and click "Add Event to Cart."
Step 3: Review your Cart Information and click "Checkout."
Enter your email address and click "Continue Unregistered."
Select the appropriate payment method and follow the prompts to complete the payment transaction. If you have a discount/scholarship code, you can enter it on the right side of the page and click "Apply."
Step 4: Enter the Student's Information, Parent/Guardian, Emergency Contact, and additional information. Click "Submit." You will receive an emailed receipt and confirmation of registration. Please retain a copy of this receipt for your reference and tax purposes.

Submit Medical Form

We value the safety and well-being of all our participating students. In the event that any emergency or medical attention arises, ALL camps and programs require parents to submit medical forms on behalf of the student. Please DO NOT forget to return this form to our office as this will hold up the registration process for your student. If you have already submitted the medical form for a camp this summer, you will not have to submit it again. We do not retain medical documentation from previous summers.
Step 1: Download and complete the Summer Medical Form (PDF link at top of page) with the appropriate student and parent information.
Step 2: Attach a copy of:

Student's insurance card,
Parent's driver's license
Any other medical documents needed to seek treatment

Step 3: Send the form and attachments to our office at: Outreach and Continuing Education, Office of Pre-College Programs, The University of Mississippi, P.O. Box 1848, University, MS 38677-1848.
For the security of you and your student's information, please do not email or fax medical forms to our office. We request that you mail or bring the forms to our office.

Submit Agreement

The Office of Pre-College Programs has set guidelines and rules in place for the safety of the students participating in our camps and programs. Please review these guidelines and rules and discuss with your student(s) before the first day of the program. The Agreement Form is available at the top of the page.
For additional information, please contact:
Address: Outreach and Continuing Education, Office of Pre-College Programs, The University of Mississippi, P.O. Box 1848, University, MS 38677-1848
Phone: (662) 915-7621
Fax: (662) 915-1535
Email: precollege@olemiss.edu