Leadership Institute for Rising 9th Graders
Academics
Through interactive classroom instruction, visits from local and state leaders, as well as field experiences, students will gain a greater awareness of the issues and problems facing the United States today. The program emphasizes analysis of policy, situations, and problems with the goal of fostering critical thinking and collaborative problem-solving skills. Instructors working with the group are certified high school teachers with reputations for excellence in teaching.
A note: in the past, this program granted .5 high school credits for successful completion, but the Mississippi Department of Education has recently reclassified the Problems in American Democracy course as 1 credit, requiring a full year of instruction. In the interest of producing a high-quality in-person summer instructional experience, the Lott Institute and our instructors have decided to convert the Lott Summer Institute for Ninth Grade students into a more experientially-centered program, with a design uniquely suited to our focus on leadership in our region.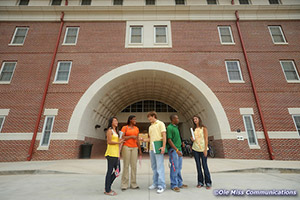 Residential Life
Students will be housed with other students attending our summer programs in a university residence hall designated specifically for them with counselors selected to work with their age group. Counselors are outstanding UM students who have been trained to supervise minors on campus. After class each day, students will participate in recreational activities led by counselors, familiarizing themselves with the many resources available on a college campus.
What Students are Saying
Former participants have shared their feedback with us. Take a look!
---
"The program helped me realize what it really does take to be a leader, and I got to connect with peers throughout the entire state."
"I got a taste of what it would be like to go to college; that definitely increased my knowledge and awareness so that when I get there, I will have had some experience."
"I am walking out a more confident individual compared to when I walked in. I feel like I've had a little taste of college life due to the atmosphere and working on projects with friends."