Mississippi Chinese StarTalk
Mississippi StarTalk is a program funded by the federal government to provide high school students with intensive instruction in Chinese on the Ole Miss campus in Oxford during the Second Summer Session. In addition to studying Chinese inside and outside of the classroom, students will participate in a cultural program introducing them to China, its people, and its culture. Students will receive Summer College and StarTalk scholarships that cover the cost of their instruction and books, and provide them with housing and meals on the Ole Miss campus. Eligible students who complete the program will receive college credit in Mandarin Chinese.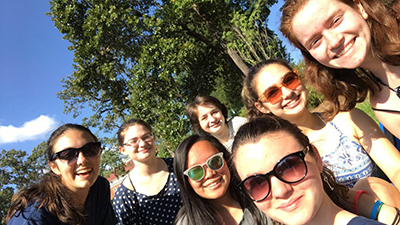 Who Can Apply?
Rising high school sophomores, juniors, and seniors from across the United States with outstanding academic records may apply to the StarTalk Program. Up to thirty students will be selected to participate in the program upon consideration of their academic record, letters of recommendation, and personal essay. Three levels of instruction will be offered. Accepted students with prior study in Chinese will be asked to submit a speech sample for program placement purposes.
What are the Benefits?
China has emerged as an economy whose size and productivity is propelling it to new global prominence in the fields of business, diplomacy, economics, politics, and science. The United States currently has too few speakers to meet our nation's need for purposes of national security and economic competitiveness. Students who have become highly proficient speakers of Chinese during their high school and college careers will find themselves with unlimited career opportunities when they finish their education over the coming decade. Mississippi StarTalk is a chance to begin or continue the study of Chinese under ideal circumstances and with opportunities to continue during the coming year and into college. The University of Mississippi has one of the premier undergraduate Chinese language programs in the country, and it receives special Federal funding to send students to study in China.
What Students are Saying
Former participants have shared their feedback with us. Take a look!
---
"I had an amazing time! I learned lots of new things and met many new friends this year."
"It was very fun and greatly improved my Chinese capabilities."
"I had an incredible experience learning Chinese. I loved every aspect of the program."