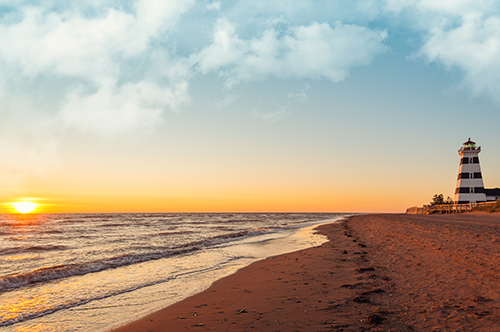 Exploring the Food and Culture of Prince Edward Island
July 22-28, 2018
Registration Deadline: June 1, 2018
Group Leader: David Holben, Professor in the Department of Nutrition and Hospitality Management
Cost: $3,500
REGISTRATION CLOSED
The Academic Traveler presents a culture and cuisine excursion to Prince Edward Island, Canada. This trip will offer the best that this maritime province has to offer. Located in the Gulf of St. Lawrence off the coasts of New Brunswick and Nova Scotia, Prince Edward Island (PEI) is the birthplace of Canada. Travel from 'tip to tip' with your host to experience the history of Charlottetown, the beauty of Cavendish's red-sand beaches, the imagination of authoress, Lucy Maude Montgomery, and the fresh, fabulous sea- and farm-to-table cuisine.
About your group leader:
Dr. David H. Holben, Professor of Nutrition and Hospitality Management at The University of Mississippi. Dr. Holben lived on Prince Edward Island in 2013 and, as a Canada-U.S. Fulbright Scholar, he was Visiting Research Chair of Nutrisciences and Health at The University of Prince Edward Island.
Travelers will enjoy:
Guided tours of Central Prince Edward Island (Anne Land, North Cape, West Island, Eastern Tip and East Island)
Tour of Green Gables Heritage Place (the inspiration of Lucy Maude Montgomery's book)
Attend Anne of Green Gables, the musical
Cultural tour to learn about wool thread and blanket making
Evening Cooking Class with a local chef
Olive Oil tastings
Basin Head Singing Sands Beach
and more!
Included in the program cost:
Pre-departure educational materials
Pre-departure lectures and tastings
Four-star hotel accommodations in Charlottetown
Meals: 7 breakfasts, 4 lunches, and 3 dinners
Group transfers to and from accommodations and airport in Charlottetown
Culinary tours and tastings
Cooking classes
Excluded from the program cost:
Round-trip airfare to Charlottetown
Passport fees
Travel insurance
Health care
Individual activities and tours on free days
Tips
For more information contact:
Mary Leach at (662) 915-7847 or mleach@olemiss.edu