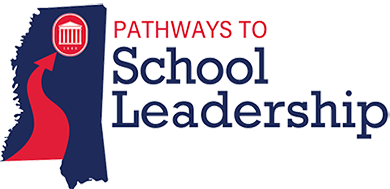 The University of Mississippi Pathways to School Leadership
About the Program
The University of Mississippi's Division of Outreach and Continuing Education's Office of Professional Development and Lifelong Learning will offer academic classes through the School of Education. Upon successful completion of the two academic leadership focused classes (6 credit hours in total) and 5 Orientation for School Leadership (OSL) credits, students will be able to satisfy the MDE requirements to apply to receive their Career-Level Administrator License.
*If an individual has already begun OSL with the MDE, the six hours can be taken once OSL is completed.
Locations & Dates
Leadership for Family, Community, and School Partnerships as an Active Response to Crises
Dates: Independent study July 1-9 with synchronous classes July 1-2 and July 9
Times: Synchronous classes will be conducted online from 8:30 - 11:30 a.m. and 12:30 - 3:30 p.m.
Location: Virtual Learning
Register Here
Who Can Apply and Register for a Class?
Candidates who have completed the one-year MAPQSL internship can register for the class. The class offers three (3) hours of Educational Leadership coursework to be eligible for a Career-Level Administrator License.
Admission to the University of Mississippi
In order to register for the OSL professional development, you MUST first apply to the University of Mississippi. You may do so by applying online at www.olemiss.edu/admissions. You will need to select graduate admission (non-degree seeking). The online registration process is self-explanatory, and, with the exception of the required transcripts, may be accomplished over the internet.
Charges
Tuition Charges
Tuition is based on the current academic school year's tuition cost for a 3-hour graduate-level class. Please keep in mind that the University of Mississippi also attaches a nominal Capital Improvement Fee to all academic courses. You are responsible for all charges associated with your enrollment in a class.
As a general practice, we do not process tuition partial payments for our programs. However, we will accept personal checks for payment of tuition. If you wish to pay with a personal check, you may mail your check to the Division of Outreach and Continuing Education (payable to "The University of Mississippi") along with your enrollment form, and we will deliver it to the Bursar's Office where they will process your payment and credit your account.
If you do not choose to pay by check in this way, a "hold" will be placed on your account until your Bursar bill is paid in full. If you fail to pay your Bursar bill, you will not be able to secure a copy of your transcript from the University.
Cost of Program Materials
Each participant will be responsible for the cost of the class materials.

Scholarships
No scholarships are available at this time for the PTSL program unless your school district allows you to use Bank Credit Hours.
Academic Credit
As an admitted UM student in the PTSL program, you can earn six (6) hours of academic credit by enrolling and successfully completing two 3 hour courses over the course of two academic terms.
Course Description
Leadership for Family, Community, and School Partnerships as an Active Response to Crises
Due to current as well as past crises, schools and districts have faced closures; re-openings have been indefinite; and implementation of virtual learning has our typical school and family partnerships evolving. Schools and families have shifted in how they communicate and support one another, as families are more responsible for supporting their children's learning at home. In many cases teachers are reaching into each family's home to help guide student learning through a new variety of engagement methods. Engaging all families will require true partnerships, and the building of mutual trust and respect to ensure every student has the opportunity to participate in equitable learning is a priority. School leaders are faced with a number of barriers to this work. However, they want to create opportunities to support students and their families despite crises. Hopefully, the challenges will bring about deepened relationships with families and engagement in their children's learning.
Participants will examine the national and local contexts of how K-12 school leaders can effectively engage families and the community in all students' academic and nonacademic success.  Participants will examine the gaps and identify obstacles that could challenge improvement efforts, as well as provide equity and identify supports for increasing student achievement especially during crises. Participants will gain an understanding of cultural competence and its importance to family/school/community partnerships. Through the exploration of research, the examination of present family and community engagement plans, and the review of best practices, leaders will develop options for improving their plans and ensuring that all stakeholders representing a school and its diverse community are involved in planning and sharing responsibility for student achievement.
Cancellations
If you are unable to attend the professional learning for which you have registered, it is important to notify our office of this at least five (5) business days prior to the first day of class. Participants who withdraw from the professional development in this way may be able to receive a full refund of their payment from the Bursar's Office. After this time, however, a full refund of tuition cannot be guaranteed.
Contact
Griffin R. Stroupe, Program Coordinator
Division of Outreach and Continuing Education
Office of Professional Development and Lifelong Learning
Phone: (662) 915-3121
Fax: (662) 915-5138
Email: pdlljac@olemiss.edu
Mail: The University of Mississippi, Division of Outreach, Office of Professional Development, Post Office Box 1848, University, MS 38677