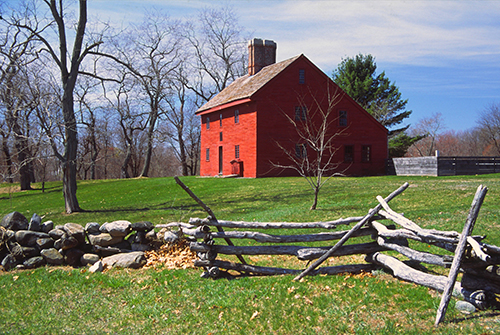 Salem, Massachusetts
Salem Witch Trials
Credit hours: 3
Instructors: Dr. Melinda Rice, Instructional Assistant Professor

Dates: On Desoto Campus: July 30-August 1 & August 9-10, 2018; In Boston and Salem: August 2-8, 2018
Cost: $950 plus tuition
Application Deadline: June 1, 2018
To Register
Click here to download registration forms.
Itinerary subject to change. Students should wait to make travel arrangements after confirming dates and times with instructor.
Students will:
Study one of the most famous and mythologized events from early American history: the Salem Witch Trials.
Learn the European foundations of with trials, and the New England context for the period.
Travel to Boston and Salem to make site visits to better understand the "little communities" that made up Massachusetts Bay Colony, and colonial New England as a whole.
Tour historic site such as Plimoth Plantation, Boston Common, the House of Seven Gables, the North End, and Copp's Hill Burying Ground.
Visit sites with direct ties to the Witch Trials, such as Balch House, Hale Farm, and Johnathan Corwin's home.
Understand how different historians have interpreted the fascinating historical puzzle of the Salem Witch Trials.
Improve writing and critical thinking skills, and utilize primary sources from 17th century to inform final paper.
Location:
Students will spend 6 days between Boston and Salem, MA.  Shared accommodations will be provided at Northeastern University.
Who should go?
Program will be of interest to History, Sociology, Anthropology, English, Education, Gender Studies, Medieval Studies, Psychology, and Religious Studies majors. History club, Center for Inclusion and Cross Cultural Engagement, Cultural Connections, Cultural Passport, Law Association of Women, National Society of Collegiate Scholars, Ole Miss Mock Trial Association, Teachers of Tomorrow, Theta Alpha Kappa Religious Studies Honor Society
Dates:
Class will begin on the Desoto campus on July 30th and continue through August 1st. Students will make their way to Boston on August 2nd, and class in Massachusetts will begin that evening. Class in Boston and Salem will run August 2-8, with students returning to the Desoto Center on August 9th for two more days before class ends on August 11th.
Travel:
Students will make their own travel arrangements to and from Boston, MA. The easiest airport to travel into will be Boston Logan International Airport.
Costs:
Course fee is $950. Included in the course fee are housing, site entry fees, ground transportation, and select group meals. Excluded from the cost are the Study USA application fee, tuition, airfare, and personal spending money.