Elementary Programs: Rebel Quest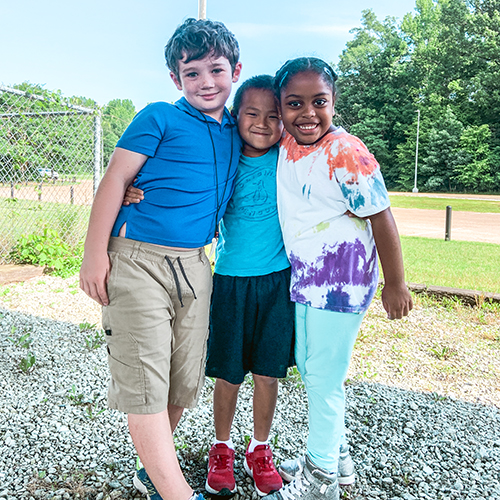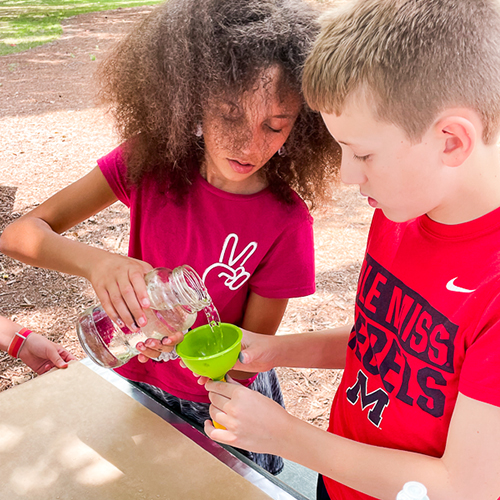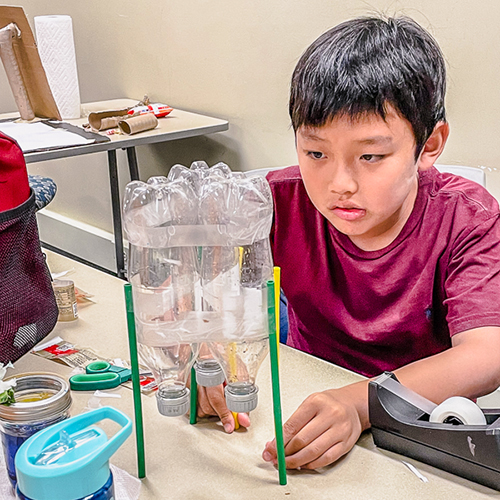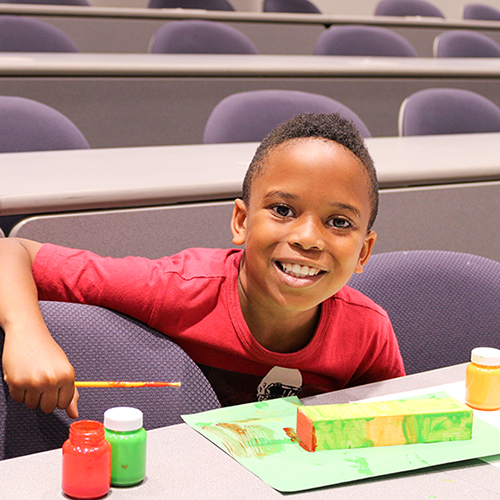 Rebel Quest
Join us for summer fun and learning on the University of Mississippi campus this summer. Each week will feature activities built around an academic theme incorporating different departments and disciplines on the University of Mississippi's Campus. Each week will be filled with creativity, interaction, and enrichment. 
Grades: Rising 1st to 6th graders
Dates: Seven week-long sessions running May 28 – July 19, 2024 
Cost: $195 for regular week.
For four-day weeks the cost will be: $156 for non-employees, $131 for employees
University of Mississippi Employees (full-time) may choose ONE of the following employee benefit options: Save $25 per week now by paying the full cost upfront with a card. –OR– Choose Payroll Deduction – Full price of day camp ($195/week) taken out over six (6) pay periods starting with the first payroll of July. Available until June 15th. 
Follow us on social media for sneak peeks, updates, and reminders. Want to get updates sent directly to your inbox? Sign up for our email list.
Step 1: Pay + Secure Spot Step 2: Online App + Forms Step 3: Medical Form + Upload
Rebel Quest is a day camp held on the Ole Miss campus and led by highly qualified university and community instructors. Students will experience hands-on learning and exploration that will encourage and motivate critical thinking. Students will explore different topics each week such as science, camping, arts, food from around the world, among other topics.
Regular Registration Deadline:
June Weeks: May 1st
July Weeks: June 1st
Late Registration Deadline:
An additional $15 late registration fee will be charged per week registered.
June Weeks: May 20th
July Weeks: June 20th
Registration Instructions
Registration for summer programs will be completed in three (3) steps. Completion of ALL three steps is required for a student's participation in any summer program. The full process is required to be completed within two (2) weeks of completing Step One.
STEP 1: Pay using the payment portal to secure your student's spot.
STEP 2: Complete the full online application and required online forms.
STEP 3: Download and complete the Medical Form and upload required documentation.
STEP 1: Pay and secure spot
Families can quickly secure their students' spot in a selected program and weeks by paying up front using our online payment portal. The payment portal presents program-specific options and asks for basic student details and custodial parent or legal guardian contact information.
Need to register for multiple weeks? Before proceeding to checkout, families can "continue shopping" and select additional weeks to add as needed – no need to pay one week at a time.
Multiple students? The current system can only take one student's information at a time. Please only complete one student's registration per order or transaction in order to prevent registration errors.
Upon completion, families will receive an automatic email with your receipt, six-digit Order Number, and an outline of the next steps.
BEFORE starting this step, please note the following:
Complete STEP ONE and note the six-digit Order Number on your Order Confirmation/Receipt email. If multiple orders were placed for the same student, please use the initial order confirmation number.
Estimated completion time will be 5-10 minutes.
STEP 2: Online App plus Forms
After securing their student's spot in a program, families will complete the online application portion of the registration process. The application requests the student's personal and academic details, parent or legal guardian information, and other additional details relevant to the student's application.
The online application also displays the following forms for a custodial parent or guardian's review, acknowledgement, and agreement:
Program Rules and Guidelines
COVID Liability Waivers
General Permissions
This step only has to be completed ONCE per summer. Additional program registrations will be connected to a student's application.
STEP 3: Medical Form plus Upload
Does NOT require immunization or shot records
The Medical Form packet includes three (3) forms – Form 1A: Treatment Consent and Liability Release (*required); Form 1B: Allergies, Restrictions, and Medications (if applicable); and Waiver of Health Insurance (if applicable). Families will download and complete the Medical Form and upload the following paperwork using our secure Box upload portal:
Completed Medical Forms 1A and 1B
Copy of a parent or guardian's Driver's License or state-issued ID
Copy of insurance card covering the student OR completed Waiver of Health Insurance Form (if applicable)
Scans or photos taken with a cell phone are acceptable as long as all details are clear and legible.
Important: Our office does NOT recommend emailing or faxing any medical form or related paperwork due to security concerns with these systems.
This step only has to be completed ONCE per summer. Additional program registrations will be connected to a student's application.
Post-Registration Details
The FULL registration process (all 3 steps) is required to be completed within a two-week period.
Incomplete or Inactive Registrations
After the two-week period, incomplete registrations or registrations without active progress toward completion will receive an Action Required email with a reminder to complete the registration process, remit any missing paperwork, or request an extension.
Extensions may be requested by email at precollege@olemiss.edu. Please include the student's full name and Order Number when making an extension request.
Attention: A late fee ($20) will be due prior to admission if a student's application is not completed or after three (3) weeks of inactivity, unless an extension is requested.
Fully Complete Registrations
Upon FULL completion of the registration process, families can expect to receive a Notice of Completion email. This notice will be sent by our registration team once all documentation has been fully reviewed and processed (estimated 4-5 business day response after final document received).
Additional Registration Options
Add More Weeks
Families may add and pay for additional weeks of a day camp or another day camp by completing Step 1 again (subject to availability). If Step 2 and 3 have already been completed for the upcoming summer, there is no need to re-complete those steps again.
Switch to Another Day Camp and/or Week
In cases of schedule conflicts, change in plans, etc., families may switch their student's registration to another program, session, or week (subject to availability) by completing the Day Camp Registration Update Form and paying a Program Change Fee of $10 per change.
Day Camp Registration Update Form
Cancel a Registration
Families may cancel a student's registration by completing Day Camp Registration Update Form. Cancelled registrations will receive a refund per the below Refund Policy.
Refund Policy
Registrations may be cancelled up to two (2) weeks prior to the selected program's start date to receive an 80% refund. Refunds are not available if cancellation occurs less than two weeks prior to the selected program's start date.
Full refunds will be issued if the programs (or selected week of program) is cancelled due to low enrollment.
Daily Schedule
| Time | Event |
| --- | --- |
| 7:30 – 8:00 a.m. | Morning drop off (Lamar Hall — back entrance, parking lot side) |
| 8:00 a.m. – 5:00 p.m. | Rebel Quest activities |
| 5:00 – 5:30 p.m. | Afternoon pick up (Lamar Hall — back entrance, parking lot side) |
Week 1: Life on Mars
Dates: May 28 - 31 (short week)
Have you ever looked up in the sky and wondered what's out there? Here at Rebel Quest, we have! Come with us as we blast off and explore our little red neighbor and ponder the question of if there could ever be Life on Mars. During this week, we will explore topics such as rocket propulsion, creating habitats, and what it would take to live on Mars.
Week 2: Juicemanji
Dates: June 3 - 7
A camp for those who seek to find a way to leave their world behind! Roll the dice, and join us as we embark on an adventurous "journey" learning about the animal kingdom as we go! Each day will cover new animals and biomes. This week will be more fun than a barrel of monkeys!
Week 3: Around the World in Five Days
Dates: June 10 – 14
Travel the world with Rebel Quest! Join us for a week full of fun learning about different cultures and languages around the world. We will "visit" places such as Brazil, France, Germany, Japan, and Morocco. All aboard this week as we "set sail" for new and fun experiences!
Week 4: Summer Olympics
Dates: June 17 – 21
In honor of the 2024 Summer Olympics, Rebel Quest is diving into the wonderful world of sports! During this week, we will learn about the history of the Olympics, sports science, and the competitive spirit. Join us as we go for the gold!
Week 5: Jurassic Quest
Dates: July 8 - 12
Welcome to Jurassic Quest! Join us as we explore the fantastic world of dinosaurs. We will look at paleontology and fossils as we learn about some of the most interesting animals to ever walk our planet. This week of Rebel Quest, life finds a way!
Week 6: Level Up
Dates: July 15 - 19
Do you like games? This week of Rebel Quest, we will explore the history of gaming and diving into what makes our favorite games tick! We will investigate concepts such as coding, game design, and much, much more! Get some experience and Level Up!
For additional information, please contact:
Address: Outreach and Continuing Education, Office of Pre-College Programs, The University of Mississippi, P.O. Box 1848, University, MS 38677-1848
Phone: (662) 915-7621
Fax: (662) 915-1535
Email: precollege@olemiss.edu