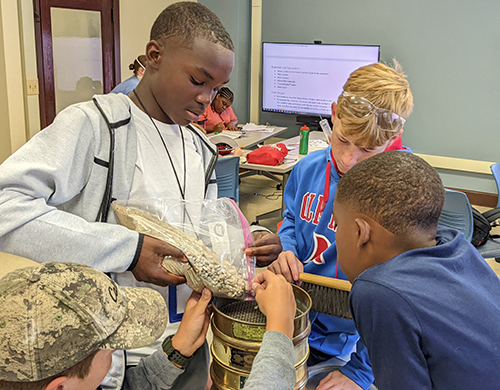 Designed for students who show a great interest in mathematics and science, Discover Engineering at UM offers hands-on problem-solving and creative opportunities for participants to discover the connection between engineering and their interests. Throughout the week, participants will be exposed to chemical, civil, electrical, and mechanical engineering with an emphasis on careers available in these fields. Each day will focus on a different challenge in engineering labs taught by faculty at the University of Mississippi School of Engineering.
Students enrolled in the 7th- 12th grades and attending public school in Lee, Pontotoc, or Union counties are eligible to apply for a CREATE scholarship. For more information and to apply, please review the description on our scholarship page.


Residential students will live in a residence hall on campus, supervised by live-in counselors. All counselors are undergraduate students trained in the supervision of minors and background-checked. Evening recreational activities may include use of the campus recreational center, board games, and trips to locations on campus or in town.
Regular Registration Deadline:
June Programs = May 1st
July Programs = June 1st
Late Registration Deadline:
An additional $40 late registration fee will be charged per week registered.
June Programs = May 20th
July Programs = June 20th
Registration Instructions
Registration for summer programs will be completed in three (3) steps. Completion of ALL three steps is required for a student's participation in any summer program. The full process is required to be completed within two (2) weeks of completing Step One.
STEP 1: Pay using the payment portal to secure your student's spot (Step 1 button above).
STEP 2: Complete the full online application and required online forms.
STEP 3: Download and complete the Medical Form and upload required documentation.
STEP 1: Pay and secure spot
Families can quickly secure their students' spot in a selected program and weeks by paying up front using our online payment portal. The payment portal presents program-specific options and asks for basic student details and custodial parent or legal guardian contact information.
Upon completion, families will receive an automatic email with your receipt, six-digit Order Number, and an outline of the next steps. Please retain this email for your records and tax purposes.
BEFORE starting this step, please note the following:
Complete STEP ONE and note the six-digit Order Number on your Order Confirmation/Receipt email.
Estimated completion time will be 5-10 minutes.
STEP 2: Online App plus Forms
After securing their student's spot in a program, families will complete the online application portion of the registration process. The application requests the student's personal and academic details, parent or legal guardian information, and other additional details relevant to the student's application.
The online application also displays the following forms for a custodial parent or guardian's review, acknowledgement, and agreement:
Program Rules and Guidelines
COVID Liability Waivers
General Permissions
This step only has to be completed ONCE per summer. Additional program registrations will be connected to a student's application.
STEP 3: Medical Form plus Upload
Does NOT require immunization or shot records
The Medical Form packet includes three (3) forms – Form 1A: Treatment Consent and Liability Release (*required); Form 1B: Allergies, Restrictions, and Medications (if applicable); and Waiver of Health Insurance (if applicable). Families will download and complete the Medical Form and upload the following paperwork using our secure Box upload portal:
Completed Medical Forms 1A and 1B
Copy of a parent or guardian's Driver's License or state-issued ID
Copy of insurance card covering the student OR completed Waiver of Health Insurance Form (if applicable)
Scans or photos taken with a cell phone are acceptable as long as all details are clear and legible.
Important: Our office does NOT recommend emailing or faxing any medical form or related paperwork due to security concerns with these systems.
This step only has to be completed ONCE per summer. Additional program registrations will be connected to a student's application.
Post-Registration Details
The FULL registration process (all 3 steps) is required to be completed within a two-week period.
Incomplete or Inactive Registrations
After the two-week period, incomplete registrations or registrations without active progress toward completion will receive an Action Required email with a reminder to complete the registration process, remit any missing paperwork, or request an extension.
Extension may be submitted by email at precollege@olemiss.edu. Please include the student's full name and Order Number when making an extension request.
Attention: A late fee ($20) will be due if a student's application is not completed or after three (3) weeks of inactivity, unless an extension is requested.
Fully Complete Registrations
Upon FULL completion of the registration process, families can expect to receive a Notice of Completion email. This notice will be sent by our registration team once all documentation has been fully reviewed and processed (estimated 4-5 business day response after final document received).
Additional Registration Options
Upgrade to Residential
Families may upgrade a student's "commuter" registration by completing the Registration Update Form and paying the residential portion of the program fee ($375).
Switch to Another Program
In cases of schedule conflicts, change in plans, etc., families may switch their student's registration to another program, session, or week (subject to availability) by completing the Registration Update Form and paying a Program Change Fee ($20).
Waitlist Registration
If a program reaches maximum capacity, families may request their student be added to the selected program's waitlist. Families on the waitlist will be required to complete Step 2 and Step 3 of the registration process to secure their student's spot on the waitlist.
Note:
Completion of the Waitlist Registration Process does NOT guarantee a student's spot in a program.
Once a spot becomes available, our office will immediately contact the student's primary contact via email and phone to confirm registration and request immediate payment of program fees due.
If no confirmation and/or payment is received within three (3) business days of notice, the spot will be offered to the next family on the waitlist.
Late Registration
If spots are available in a program after the regular registration deadline, families may have the opportunity to register their student during the late registration deadline window at an additional cost (+$40 Late Add Fee). Please note the registration process for late registrations will differ.
Note: The late registration process and Late Add Fee do not apply to students and families added to the waitlist prior to the end of the regular registration deadline.
Cancel a Registration
Families may cancel a student's registration by completing a Cancellation Form. Cancelled registrations will receive a refund per the below Refund Policy.
Refund Policy
Registrations may be cancelled up to two (2) weeks prior to the selected program's start date to receive an 80% refund. Refunds are not available if cancellation occurs less than two weeks prior to the selected program's start date.
Full refunds will be issued if the day camp week is cancelled due to low enrollment.
For additional information, please contact:
Address: Outreach and Continuing Education, Office of Pre-College Programs, The University of Mississippi, P.O. Box 1848, University, MS 38677-1848
Phone: (662) 915-7621
Fax: (662) 915-1535
Email: precollege@olemiss.edu