New Program Engaging Students in Local Environmental Issues
Students learning scientific process for observing health of local water sources
OXFORD— Local students involved in the University of Mississippi's "Green is the New Pink: Young Women Environmentalists in Action" program recently spent a Saturday testing and observing water sources and trying their hand at electrofishing at UM's Biological Field Station located in Northeast Lafayette County.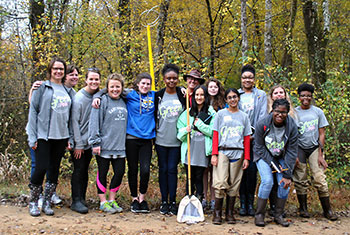 "I like nature," said Mary Porter Fountain, a ninth-grader at Oxford High School. "I think it's interesting getting to learn about what plants and different species need to survive."
This fall is the inaugural session for the new environmental camp for girls in eighth through 12th grades. It is sponsored by special grants from the National Writing Project, John Legend's "Show Me" Campaign, the John D. and Catherine T. MacArthur Foundation, and Collective Shift.
Martha Tallent is an eighth grade science teacher at Oxford Middle School and a faculty member for the program.
"I feel like something happens between eighth and 10th grades where many students seem to lose interest in science," Tallent said. "I want to teach our students to be risk takers in science and to engage in several different scientific fields to see what interests them. There are so many disciplines and jobs in the various fields, and we want to expose them to the different options."
A collaboration among the Office of Pre-College Programs, the UM Writing Project and Strawberry Plains Audubon Center in Holly Springs, the program is introducing local students to real-world research strategies and generating curiosity about the natural environment.
The cross-disciplinary partnership between English and science is allowing students in the program to conduct their own research, create a project, and deliver a presentation. They are being guided through four field experiences of data collection, data exploration, analysis and interpretation of data, and drawing conclusions.
"I'm thinking about trying some of the water quality experiments on the ponds in my neighborhood," Fountain said.
Oxford High ninth-grader Srujana Murthy said that she was interested in looking at some invasive species growing around a local pond and possibly reintroducing native plants to bring native birds back to the area.
"That's what happened at Strawberry Plains," Murthy said. "The former owner planted several non-native plants around the home and the hummingbirds stopped coming. Once they removed those and replanted with native species they saw many hummingbirds return to the area."
So far this fall students have spent one Saturday in September at Strawberry Plains Environmental Center in Holly Springs. This month, they spent a Saturday studying the ecosystem at the UM Field Station in North Lafayette County.
In February they will return to Strawberry Plains to examine the winter landscape and wildlife. Their final Saturday field experience will be at the UM Field Station in April to participate in several environmental awareness activities surrounding Earth Day.
The activities this month at the field station included testing the water quality of local streams and sampling the fish content through a process called electrofishing.  This scientific tool involves sending a small electrical current into the stream that attracts the fish and makes them easier to catch. The different types of fish are recorded and then released.
"Comparing ecosystem integrity from one stream to another is just one tiny piece of what ecology is about," UM Field Station Director Scott Knight said. "In our experiments we were trying to test the integrity and sample the diversity to measure the health of the environment."
Throughout the year program participants are staying connected in their research and writing through an online Google classroom where they will be reflecting on their field experiences and refining the writing component of their scientific findings.
"There are so many interesting paths in studying ecology," Knight said. "There are also many job opportunities in this field that we hope to open participants eyes to."
For more information about the "Green is the New Pink" program at UM please visit www.outreach.olemiss.edu/environment.