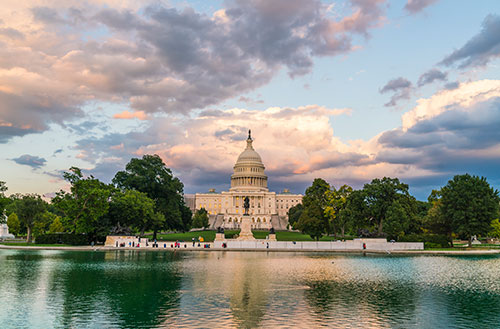 Washington, D.C.
Minority Politics
Dates: On campus: May 13-17; On location: May 19-24, 2019 in Washington, D.C.

Credit Hours: 3
Instructor: Dr. Marvin King, Associate Professor of Political Science
Cost: $900 plus tuition
Application Deadline: April 24, 2019
Examine the politics of America's minority populations, with a focus on African American, Latino, and Asian American populations;
Review minority voting behavior with an eye toward predicting future voting behavior;
Review politically salient public policy issues;
Meet with members of the US House of Representatives;
Itinerary subject to change. Please verify specific dates with instructor and confirm that the course has adequate enrollment to make before making travel arrangements.
Dates:
Students will meet Oxford, May 13-17 and spend May 19-24 in Washington, D.C.
Location:
Students will spend 6 days in Washington, D.C. and stay near downtown. Students can explore the city during "free time" and visit notable Washington, DC sites like the National Mall and Memorial Parks and Smithsonian Museums.
This program is for political science students. AAS, PPL, IMC, Journalism, Economics, and English students might also be interested.
Course fee is $900. Included in the course fee are housing and select group meals. Excluded from the cost are the Study USA application fee, tuition, airfare, and personal spending money.
Students will make their own travel arrangements to and from Washington, D.C. Shared accommodations will be provided at the Pod DC.