NEWS
UM Profs, Students Combine Travel and Learning in Study USA
Tully Taylor, Graduate Student, School of Journalism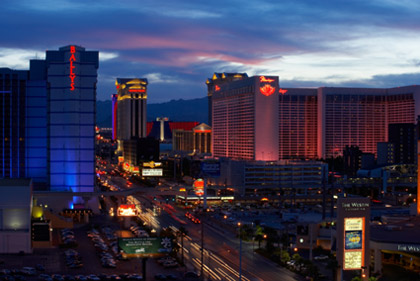 Most students spend Wintersession at home recuperating from a tough semester, working, or even taking a course on campus, but in January a group of University of Mississippi students broke the mold and traveled with their Ole Miss professors across the country for a Wintersession adventure with Study USA.
Study USA programs combine travel with the leadership of an inspirational professor, providing an opportunity for UM students to explore the United States while earning college credit.
Journalism professor Cynthia Joyce took her group to New Orleans for "Media Ethics in a Changing Landscape," a course that explored the ins and outs of media in the vibrant city.
Biology professor Brice Noonan took his students to Miami where students got to conduct research for an "Everglades for Biology of Invasive Species" course.
Professor of hospitality management Jim Taylor's group trekked to Las Vegas for a resort course where what happened in Vegas didn't actually stay there. Students returned with a newfound knowledge of the resort industry.
Kristen Brockman, a junior hospitality management major, wasn't sure how to prepare for her first visit to Las Vegas. Upon arrival she warmed up to the city and had a great time learning how resorts operate.
"It was my first visit to Las Vegas so I didn't know what to expect.  It was absolutely amazing and I recommend taking this class," Brockman said.
Brockman, a Paducah, Ky. native, said the course was a great opportunity to learn from professionals in the hospitality industry and knock out credit hours with a unique elective. However, the trip wasn't all work and no play.
"Seeing the high rollers suites in The Cosmopolitan was my favorite. I also liked experiencing all the different restaurants and food," Brockman said. "The trip has by far been my favorite memory of college so far. Amazing experience."
Meanwhile, 2180 miles away in Miami the biology class was tramping around the Everglades studying the effects of invasive species.
Addison Mickens, a junior biology/pre-med major from Macon, Miss., wanted a class that would combine schoolwork and a new perspective. He found it in this Study USA course.
"[A Study USA course] is a great way to experience a new city and culture inside the United States…[t]his course changed my perspective on biology and about the influences living organisms have on the environment despite the size or shape," he said.
Kara Morgan, a junior biology and psychology major from Pickens, S.C., decided to take the course because of the professor and also the exciting location.            
"I wanted to do this course because I thoroughly enjoyed getting to know Dr. Noonan in his fall semester evolution class and because I thought learning about invasive species in Miami would be an awesome experience," Morgan said.
Mickens said his favorite parts of the course were the "daily adventures" and the opportunity to observe and research species in their natural habitat.
Morgan agreed that scouting out the area and working with animals—she got to hold an eight-foot, 20-pound snake—were some of the fun parts of the course.
"Obviously catching and seeing all kinds of animals…" Morgan said. "Going to Key West and getting the day to explore and hang out with the group in Miami and South Beach."
In New Orleans journalism students learned about media ethics in the Big Easy.  The tumultuous media changes occuring in New Orleans made it a fascinating location for the class.
John Monteith, a junior journalism major from Memphis, enjoyed getting to travel to new locations without the commitment of a study abroad program. He said there is plenty of the U.S. he wants to see, and New Orleans' unique heritage, great food, and lively atmosphere added to the fun.
"I'm really, really glad I took the class," he said. "New Orleans has its own culture and we were immersed in it. It felt like a complete abroad experience, but close to home."
           
Monteith needed to take a higher level ethics course and Media Ethics fit the bill, citing the Times-Picayune's massive changes.
"I loved getting to meet and interview journalists who had lost their jobs. That was my favorite part," Monteith said.
He also enjoyed visiting Parkway Bakery and Tavern, a famous po-boy shop, a favorite of President Obama's when visiting for a Hurricane Katrina anniversary.
All the students who participated appreciated the opportunity to develop camaraderie with fellow classmates and their professors. Mickens said by traveling to new locations with Study USA students learn to get along outside a traditional classroom.
"On-campus classes don't always give students the opportunity to develop close relationships with each other," he said. "Formats like Study USA offer an environment where students are more inclined to get to know each other and develop life-long bonds."
For Wintersession 2014 Study USA classes will be heading back to New Orleans for Media Ethics (JOUR 575/580), Miami for Biology of Invasive Species (BISC 479) and Las Vegas for the Resort course (NHM 468). New this Wintersession will be Biomedical Ethics in Washington, DC (Honors PHIL 328).  The application deadline for Wintersession Study USA classes is Friday, November 1, but enrollment is limited, so apply early to ensure a spot.
For more information about the Study USA program or upcoming classes visit www.olemiss.edu/study_usa.