SCHS: Session Information
Program Sessions
| | | |
| --- | --- | --- |
| | First Summer | Second Summer |
| Deadline to Apply | May 1 | June 1 |
| Deadline for International Students | May 1 | May 10 |
| Move-In* | May 28, 2018 | June 27, 2018 |
| Move-In for International Students | May 27, 2018 | June 26, 2018 |
| Classes Begin | May 29, 2018 | June 28, 2018 |
| Final Exams | June 25-26, 2018 | July 26-27, 2018 |
| Move-Out* | June 26, 2018 | July 27, 2018 |
*See "Housing" section for details.
Housing
Summer College students will live on campus during the program. Students will stay in Residential College South, a contemporary residence hall on the east side of the Ole Miss campus.
Students will live in a double room with another Summer College student. Roommate selections are based on our SCHS Learning Style Questionnaire (available in the SCHS Supplemental Application packet). Each double room has its own bathroom with shower and a mini-fridge. Example of a double room is available below.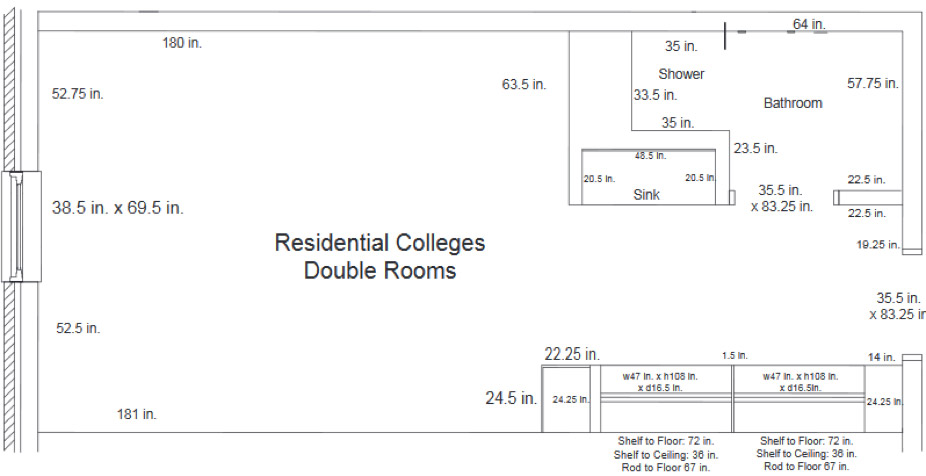 Meal Plan
Summer College students will be enrolled in a comprehensive meal plan with a flexible spending account (Ole Miss Express). Students will have the following meal plan loaded on their Ole Miss ID card:
42 Rebel Market meals (2 meals a day, Monday-Friday)
$128 Ole Miss Express cash (flexible spending)
Rebel Market. Students will use their meal plan at the Rebel Market. The Rebel Market is an all-you-can-eat cafeteria with a variety of food stations, including Asian fusion, grill, home cooking, pasta and pizza, and a salad bar. Gluten free and vegan options are also available.
Ole Miss Express. Express cash is a flexible spending account with a declining balance that students can use for a variety of purchases. Express cash is recommended as a supplement to the meal plan for small meal purchases, such as breakfast. Express cash can also be used for books, laundry, vending machines, and restaurants on campus and select locations in Oxford.
Weekend Meals. Meals on the weekend, off campus meals, and snacks are not calculated in the above meal plan. Students will need extra food money to eat off-campus and/or while on weekend trips.
Activity Calendar
Summer College students participate in numerous evening and weekend activities and community programming. Below is an example of activities planned during a typical summer term.
Sample Summer Calendar
Sunday
Monday
Tuesday
Wednesday
Thursday
Friday
Saturday
May 27
SESSION 1 International Move-In Day
28
SESSION 1 General Move-In Day
29
SESSION 1 Classes Start
Meet Communities
Ice Breakers
30
Community Activity
31
Sports Activity
June 1
Movie Night at Malco Theater
2
Double Decker Bus Tour
3
Church/Study Day
4
Scavenger Hunt
5
College Preparation Session
6
Cultural or Recreational Activity
7
Sports Activity
8
Free Afternoon
Theme Party
9
Waterpark Day
10
Church/Study Day
11
Sports Tournament
12
Financial Aid Info Session
13
Cultural or Recreational Activity
14
Sports Activity
15
Nashville Trip
Free Afternoon
16
Optional Three-Day Weekend Trip
17
Atlanta Trip
Church/Study Day
18
Sports Tournament
19
College Admissions Info Session
*Includes Honors College
20
Cultural or Recreational Activity
21
Sports Activity
22
Free Afternoon
Farewell Dance Party
23
Memphis Trip
24
Church/Study Day
25
Final Exams
26
Final Exams
General Move-Out
SESSION 2 International Move-In Day
27
SESSION 2 General Move-In Day
28
SESSION 2 Classes Start
Meet Communities
29
Movie Night at Malco Theater
30
Double Decker Bus Tour
July 1
Church/Study Day
2
Scavenger Hunt
3
College Preparation Session
4
Cultural or Recreational Activity
5
Sports Activity
6
Free Afternoon
Theme Party
7
Waterpark Day
8
Church/Study Day
9
Sports Tournament
10
Financial Aid Info Session
11
Cultural or Recreational Activity
12
Sports Activity
13
Nashville Trip
Free Afternoon
14
Optional Three-Day Weekend Trip
15
Atlanta Trip
Church/Study Day
16
Sports Tournament
17
College Admissions Info Session
*Includes Honors College
18
Cultural or Recreational Activity
19
Sports Activity
20
Free Afternoon
Farewell Dance Party
21
Memphis Trip
22
Church/Study Day
23
Sports Tournament
24
Study Day for Finals
25
Study Day for Finals
26
Final Exams
27
Final Exams
General Move-Out Day
28
Optional Three-Day Weekend Trip
Hop on the bus and decompress on Friday after class, boxed dinner provided. Saturday morning enjoy walking to Atlanta destinations including Georgia Aquarium (lunch included), the CNN Studio, and the World of Coca Cola.
Return Sunday afternoon in time to study.
Price includes:
overnight hotel accommodation in walking distance of sights
admission to all sights
lunch at the aquarium
dinner on Friday night
transportation
Cost: $360 US
This trip is supervised by program staff members and counselors. It has an additional cost of $360 US and requires a minimum of 30 students.
Health and Safety
The welfare and safety of all of our students is the Office of Pre-College Programs and the University of Mississippi's top priority. We take safety very seriously and have policies and protocols in place that aid in the prevention and in the occurrence of emergent situations.
Health Care
For non-emergency health care, Summer College students have access to the V.B. Harrison Student Health Center located on campus. The Student Health Center is open Monday-Thursday 8:00 AM to 5:00 PM and Fridays 9:00 AM to 5:00 PM.
"Urgent Care" clinics are located throughout Oxford and are a good option when the Student Health Center is closed (e.g. weekends and after hours).
For emergency health care, students will be transported to the North Mississippi Baptist Memorial Hospital Emergency Room. Non-emergency and emergency contact numbers will be provided at orientation.